[Ausstellung]: Drawing the Line von Cathy Lee Crane, 15.-24. Juli 2022, Gerichtstr. 45, Berlin-Wedding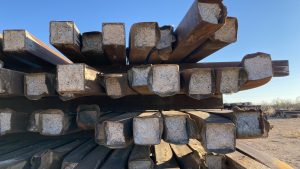 Während des gesamten Monats Juli präsentiert das HaFI die neuesten Arbeiten von Cathy Lee Crane – anlässlich ihrer vom Goethe-Institut unterstützten Harun Farocki Residency in Berlin. Sie zeichnen ihre fortlaufenden Recherchen über die US-mexikanischen Grenzräume nach. Vom 15. bis 24. Juli zeigen wir eine Fassung der plattformübergreifenden hybriden Filmreihe DRAWING THE LINE als 14-Kanal-Installation in einem unabhängigen Projektraum in Berlin-Wedding.
DRAWING THE LINE erforscht die Geschichte der westlichen Grenze zwischen den Vereinigten Staaten von Mexiko und den Vereinigten Staaten von Amerika. In seinen zahlreichen Fassungen (hier ein 14-Kanal-Projekt in Arbeit) setzt sich das Projekt mit dem Erbe der US/Mexiko-Grenzvermessungskommission (1850-1853) auseinander, die sich bemühte, diese Linie im Wüstenboden zu markieren. Das Projekt bewegt sich entlang der Grenzlinie, die westlich von El Paso bis zum Pazifik verläuft, und entwickelt seine Geschichten durch Inszenierung, Interviews, dokumentarische Beobachtungen, akustische Aufzeichnungen und das Archiv in Zusammenarbeit mit denjenigen, die im Schatten der willkürlichen Linie der Kommission leben.
Die vierte Fassung dieses Projekts, die hier zum ersten Mal präsentiert wird, stellt ein Mosaikporträt des Grenzgebiets dar (jeder Kanal steht für einen der zahlreichen Grenzübergänge zwischen El Paso und Tijuana). Das von James Patock gefertigte skulpturale Element soll an den Grenzzaun erinnern, der in den letzten fünf Jahren abgerissen und als Metallrohre in der Wüste gestapelt wurde. Er wurde entfernt, um durch höhere Platten ersetzt zu werden. Das Projekt nimmt das Problem der Linearität selbst in Angriff, indem es Abschnitte seiner laufenden historischen Untersuchung in unterschiedliche und spezifische Kontexte einordnet.
Der erste Film des Projekts, der aus dieser laufenden Untersuchung hervorging, war der abendfüllende Dokumentarfilm CROSSING COLUMBUS (2020), gefolgt von CounterStorytelling, der in Stories Left Out Ausgabe des Online-Journals Now! veröffentlicht wurde.
CROSSING COLUMBUS wird im Kino Arsenal am 27. Juli 2022 vorgeführt.
Schließlich wurde dieses Jahr der Kurzfilm terrestrial sea veröffentlicht, der im Rahmen der kollektiven Filmreihe (X)-trACTION gezeigt wurde.
(X)-trACTION wird im Kino Arsenal am 29. Juli 2022 vorgeführt.
DRAWING THE LINE
Eröffnung: 15. Juli, ab 18 Uhr
Sa 16, So 17. Juli
Fr 22, Sa 23, So 24 Juli
Von 14.00 bis 21.00 Uhr und außerhalb dieser Zeiten auf Anfrage: info@harun-farocki-institut.org
VERLÄNGERTE ÖFFNUNGSZEITEN: Do. 28. Juli von 16-19 Uhr; Di. 2. August von 13 – 17 Uhr!
Ort: Gerichtstraße 45, Hinterhof
13347 Berlin
Eintritt frei
04.07.2022 — Projekte / Veranstaltung