[Screening]: Filmprogramm (X)-trACTION mit Cathy Lee Crane, 29. Juli 2022, Kino Arsenal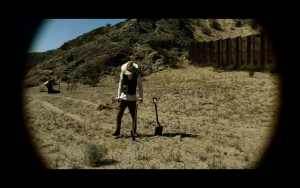 Das Harun Farocki Institut präsentiert zwei Abende mit Filmen der US-Filmemacherin Cathy Lee Crane – anlässlich ihrer vom Goethe-Institut unterstützten HaFI-Residency in Berlin. Seit 1994 hat Crane poetische Filme in einem spekulativen Geschichtsverständnis gedreht. Zudem arbeitete und arbeitet sie mit anderen Filmemacher*innen, darunter Harun Farocki, mit dem sie für das Installation- und Filmprojekt "Prison Images" in Kalifornien recherchiert und gefilmt hat.
Grenzräume sind ein wiederkehrendes Thema in der Berliner Präsentation von Cranes Filmen mit der internationalen Premiere ihrer abendfüllenden Dokumentation CROSSING COLUMBUS (2020) am 27. Juli und der Vorführung des Kurzfilms TERRESTRIAL SEA (2022) als Teil des kollaborativen Filmprogramms (X)-TRACTION. Beide Filme bauen auf Cranes langjähriger historischer Untersuchung des westlichen Teils der Grenze zwischen den Vereinigten Staaten von Mexiko und den Vereinigten Staaten von Amerika auf, die sich in der fortlaufenden, plattformübergreifenden hybriden Filmreihe DRAWING THE LINE fortsetzt. Eine Fassung davon wird auch als 14-Kanal-Installation vom 15. bis 24. Juli in einem unabhängigen Projektraum in Berlin-Wedding präsentiert. Mehr Information über diese Präsentation hier.
In (X)-TRACTION teilen fünf Medienkünstler*innen, darunter Crane, ihre neuesten Arbeiten, in denen sie das Konzept der "Extraktion" reflektieren (und vielleicht sogar zerstören). Indem sie die technischen und alltagssprachlichen Verwendungen des Begriffs untersuchen, befassen sie sich auch damit, wie sie selbst als Künstler*innen, Bilder, Ideen und Geschichten aus ihren menschlichen und geografischen Subjekten extrahieren.
(X)-trACTION
29. Juli 2022
20:00h
Die Filme:
The Smoke Rides on the Wind
R.: Erin Wilkerson, USA, 2021, Digital file, 13 Min.
The Loyalty League
R.: Laurie McKenna, USA, 2020, Digital file, 4 Min.
100 Partially Obscured Views / 100 Vistas Parcialmente Oscurecidas
R.: Nicole Antebi, USA, 2022, digital file, 21 Min.
terrestrial sea
R.: Cathy Lee Crane, USA, 2022, USA, Digital file, 14 Min.
Ancient Sunshine
R.: Jason Livingston, USA, 2020, Digital file, 19 Min.
Aggregate
R.: Laurie McKenna, USA, 2022, Digital file, 5 Min.
und andere Filme
Zu Gast: Cathy Lee Crane sowie weitere Regisseur*innen (per Video)
Wir sind an einem Punkt angelangt, an dem wir unsere Aufmerksamkeit nicht mehr von der Erde und der Enteignung ihrer Völker durch das Kapital abwenden können. Lässt sich die komplexe Degradierung auf das Hauptproblem der Extraktion reduzieren? Extraktion ist die Entnahme von Material von einem ursprünglichen Ort und die anschließende Umwandlung dieses Materials in ein Produktionsmittel, eine andere Form für einen bestimmten Zweck: Öl in Energie, menschliche Energie in Profit. Die Erde weist in ihrer zyklischen Art und Weise weiterhin all ihre erneuerbaren und nicht erneuerbaren Aspekte auf, obwohl sie bis auf ihren Kern ausgelaugt ist. (Cathy Lee Crane)
(X)-trACTION ist eine 2021 gegründete Kollaborative von fünf Künstler*innen/Filmemacher*innen, deren erstes Programm mit kurzen poetischen Dokumentarfilmen, die sich mit der Geschichte des amerikanischen Westens beschäftigen, im Januar im Central School Project in Bisbee, Arizona, begann. Im März wurde es dann im Cornell Cinema in Ithaca, New York, fortgesetzt. Für das Arsenal-Screening im Juli in Berlin lud die Kollaborative lokale Gemeinschaften ein, Beobachtungen von Räumen aus dem täglichen Leben beizusteuern, in denen sich "Plünderung oder Zuflucht" offenbaren (siehe Open Call in Englisch hier). Diese Beiträge sind in das Programm als Zwischenräume aufgenommen worden, die sich durch die Abfolge ihrer eigenen Filme ziehen, um ein Meta-Mash-up-Depot zu bilden, das sich um unser Klima, unsere Arbeiter*innen, unsere Geschichte und unsere Zukunft sorgt – die Schönheit und das Versagen. Während die Logik der Extraktion auf gewaltsame Weise absichtlich ist, ist die operative Logik dieser generativen Medienarbeit [die das heutige Programm darstellt] großzügig, zufallsbasiert und spielerisch.
Postkarten aus der Mitte des Jahrhunderts, Vorder- und Rückseite, bieten wertvolle, wenn auch verdeckte Ansichten in Nicole Antebis archivarischer Wiederbelebung von Roberto López Díaz' Darstellungen von la frontera. In Cathy Lee Cranes Video, das die Vorrangstellung von Wasser und Migration im Staub militarisierter Landschaften betont, agiert die Geografie in mehreren Inszenierungen. Laurie McKenna beschwört die Macht der Wüste in einem Aggregat aus Erinnerung und Holzkohle und verankert den nationalen Bruch in einem Klang-Tagebuch. Erin Wilkerson und Jason Livingston ziehen in ihren Beiträgen poetische Kraftlinien durch die Industrie und erinnern uns daran, dass die Gewinnung von Bodenschätzen trotz ihres lokalen Magnetismus und ihrer metallischen Verlockungen einen Blick auf internationale Dynamiken ermöglicht.
Für diese Berliner Ausgabe hat (X)-trACTION im Rahmen der Zusammenarbeit zwischen dem Harun Farocki Institut und dem Projekt After Extractivism der Berliner Gazette ein Manifest verfasst, das hier auf der Website des Medienpartners NON verfügbar ist.
Mehr Informationen über das Filmprogramm Filme von Cathy Lee Crane am 27. Juli 2022 befinden sich hier.
01.07.2022 — Projekte / Veranstaltung