[Film program]: (X)-trACTION with Cathy Lee Crane, July 29, 2022, Arsenal Cinema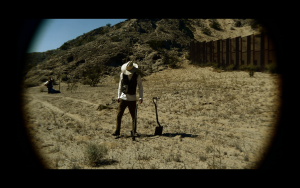 Harun Farocki Institut presents two evenings with films by the American filmmaker Cathy Lee Crane on the occasion of her current Harun Farocki Residency in Berlin, supported by the Goethe-Institut. Since 1994 Crane has crafted lyrical films of speculative history. She has also collaborated extensively with filmmakers, including Harun Farocki, with whom she researched and filmed for the installation and film project "Prison Images" in California.
The borderlands is a recurring theme in the Berlin presentation of Crane's films with the international premiere of her feature-length documentary CROSSING COLUMBUS (2020) on July 27, and the screening of the short film TERRESTRIAL SEA (2022) as part of the collaborative film program (X)-trACTION on July 29. Both films build on Crane's long standing historical investigation on the western boundary between the United States of Mexico and the United States of America, which also manifests in the ongoing multiple platform hybrid film series DRAWING THE LINE, one iteration of which will also be presented as a 14-channel installation from July 15-24 by the Harun Farocki Institut in an independent project space in Berlin-Wedding.
In the program (X)-trACTION, a collaborative of five media artists including Crane share their latest works to reflect on and maybe even destroy the term "extraction." By examining the technical and the common use of the term, they also ponder their position as artists who grapple with how they extract images, ideas, and stories from their subjects both human and geographical.
(X)-trACTION
July 29, 2022
8 p.m.
The films:
The Smoke Rides on the Wind
Dir.: Erin Wilkerson, USA, 2021, digital file, 13 min
The Loyalty League
Dir.: Laurie McKenna, USA, 2020, digital file, 4 min
100 Partially Obscured Views / 100 Vistas Parcialmente Oscurecidas
Dir.: Nicole Antebi, USA, 2022, digital file, 21 min
terrestrial sea
Dir.: Cathy Lee Crane, USA, 2022, USA, digital file, 14 min
Ancient Sunshine
Dir.: Jason Livingston, USA, 2020, digital file, 19 min
Aggregate
Dir.: Laurie McKenna, USA, 2022, digital file, 5 min
and other films
Guests: Cathy Lee Crane (in-person), Jason Livingston, Laurie McKenna, Nicole Antebi, and Erin Wilkerson (remote)
We are at a juncture where there is no way we can avert our attention from the earth and the dispossession of its peoples at the hands of capital. Can complex degradation be distilled down to the primary issue of extraction? Extraction is the taking and the pulling of material from an original place and the subsequent conversion of that material into a productive agent; another form for a purpose: oil into energy, human energy into profits. The earth continues to offer, in its cyclical manner, all its renewable and nonrenewable aspects despite it being drained to its core. (Cathy Lee Crane)
(X)-trACTION is a collaborative of five artists/filmmakers founded in 2021 whose first initial program of short poetic documentary films engaging with histories from the US American West began at the Central School Project in Bisbee, Arizona in January. It then continued at Cornell Cinema in Ithaca, New York in March. For the Arsenal screening in July in Berlin, the collaborative invited local communities to contribute observations of spaces from daily life that reveal "plunder or refuge" (see Open Call here). These contributions are included in the program as interstitial seams that make their way through the sequence of their own films to form a meta mash-up deposit concerned for our climate, our workers, our history and future–the beauty and the failures. Whereas the logic of extraction is violently deliberate, the operative logic of this generative media work [aka today's program] is generous, chance-based, and playful.
Mid-century postcards, front and back, offer invaluable if obscured views in Nicole Antebi's archival re-animation of Roberto López Díaz's depictions of la frontera. Geography plays across multiple enactments in Cathy Lee Crane's video, which asserts the primacy of water and migration in the dust of militarized landscapes. Laurie McKenna conjures desert punk power in an aggregate of memory and charcoal, and grounds national rupture in a sonic diary. Erin Wilkerson and Jason Livingston, in their contributions, draw poetic power lines through industry, reminding us that extraction, for all its local magnetism and metal lures, is a view into international dynamics.
For this Berlin edition, (X)-trACTION wrote a manifesto as part of the collaboration between the Harun Farocki Institut and the Berliner Gazette's project After Extractivism which is available here on their media partner's website NON.
July 1st, 2022 — Projects / Event