[Screening]: Filme von Cathy Lee Crane, 27. Juli 2022, Kino Arsenal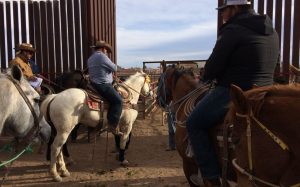 Das Harun Farocki Institut präsentiert zwei Abende mit Filmen der US-Filmemacherin Cathy Lee Crane – anlässlich ihrer vom Goethe-Institut unterstützten Harun Farocki Residency in Berlin. Seit 1994 hat Crane poetische Filme in einem spekulativen Geschichtsverständnis gedreht. Zudem arbeitete und arbeitet sie mit anderen Filmemacher*innen, darunter Harun Farocki, mit dem sie für das Installation- und Filmprojekt "Prison Images" in Kalifornien recherchiert und gefilmt hat.
Grenzräume sind ein wiederkehrendes Thema in der Berliner Präsentation von Cranes Filmen mit der internationalen Premiere ihrer abendfüllenden Dokumentation CROSSING COLUMBUS (2020) und der Vorführung des Kurzfilms TERRESTRIAL SEA (2022) als Teil des kollaborativen Filmprogramms (X)-trACTION am 29. Juli. Beide Filme bauen auf Cranes langjähriger historischer Untersuchung des westlichen Teils der Grenze zwischen den Vereinigten Staaten von Mexiko und den Vereinigten Staaten von Amerika auf, die sich in der fortlaufenden, plattformübergreifenden hybriden Filmreihe DRAWING THE LINE fortsetzt. Eine Fassung davon wird auch als 14-Kanal-Installation vom 15. bis 24. Juli in einem unabhängigen Projektraum in Berlin-Wedding präsentiert.
Filme von Cathy Lee Crane
27. Juli 2022
20:00h
Crossing Columbus
R.: Cathy Lee Crane, USA, 2020, Digital file, OF, 78 Min.
On the Line
R.: Cathy Lee Crane, USA, 2010, Digitale file, OF, 4 Min.
Zu Gast: Cathy Lee Crane im Gespräch mit Rebekah Rutkoff (Autorin)
Auf dem Höhepunkt der mexikanischen Revolution überfiel Pancho Villa Columbus, New Mexico. Jedes Jahr reißt das Gedenken an den Überfall in der Stadt alte Wunden auf. In diesem Jahr (2018) reiten mexikanische Reiter*innen (Cabalgata Binacional Villista) mit dem Enkel von Villa selbst durch die Wüste von Chihuahua nach Norden, um Villas Totenmaske zu spenden. Richard Dean, selbsternannter Stadthistoriker, findet die dörfliche Begeisterung für die Cabalgata "unamerikanisch". Die Gedenkfeier, die er für die lokale Historische Gesellschaft organisiert, ist gleichzeitig der Jahrestag der Ermordung seines Großvaters durch die Villistas. Während sich die Stadt mit dem historischen Ereignis auseinandersetzt, das Columbus in die Landkarte eintrug, wird klar, dass das Überleben dieser Grenzstadt von dieser Auseinandersetzung abhängt. In der Geschichte von Columbus geht es sowohl um die Vergangenheit als auch um das Ritual, sie neu zu erzählen und zu inszenieren. Durch ihre jahrzehntelange Wiederholung prägte diese Geschichte die Identität der Stadt.
Im Kontext der aktuellen Debatten über die Einwanderung in Nordamerika rahmt CROSSING COLUMBUS diese Kontroversen durch die historische Linse der Grenze selbst ein, insbesondere durch die Geschichte des Grenzübertritts.
Der Kurzdokumentarfilm ON THE LINE zeigt eine Reise um die Baja California zum Wendekreis des Krebses während der Sommersonnenwende. Der Film wurde größtenteils mit der Kamera aufgenommen und entwickelt seinen erzählerischen Schwung durch den Rhythmus von Aufnahmelänge und Komposition. Unterstützt durch eine Originalmusik von Beth Custer und ein abgefahrenes Sounddesign von Jeremiah Moore, das Geräusche der Cassini-Raumsonde verwendet, nimmt das Stück einen humorvoll-unheimlichen Ton an, so als ob die historische Markierung eine Landung von Außerirdischen wäre.
Ort: Arsenal Cinema 1
01.07.2022 — Projekte / Veranstaltung