Veranstaltung: RADICAL FILM NETWORK MEETING 2021, 25.-28. August, BUFA Atelier Gardens, Berlin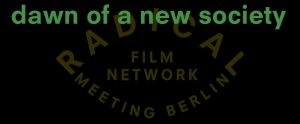 Vom 25. bis 28. August findet in Berlin die zweite Ausgabe des Radical Film Network Meeting 2021 statt, eine Veranstaltung in Kooperation mit dem Harun Farocki Institut.
Auf Anregung des RFNM-Teams, bestehend aus Ursula Böckler, Julia Lazarus und Alexandra Weltz-Rombach, wird eine breite Gemeinschaft von Film- und Kulturschaffenden zusammenkommen, um sich über das diesjährige Thema "radical film at the dawn of a new society" auszutauschen. Die Filmvorführungen, Vorträge, Gespräche und Workshops finden in den Atelier Gardens der BUFA in Berlin-Tempelhof statt.
Ausgehend von ihrem Beitrag im Pamphlet HaFI 014 hält Elske Rosenfeld am 28. August um 20.30 Uhr im Rahmen des RFNM 2021 die Lesung The Window. Reframing Harun Farocki's "Hard Selling".
Mehr Informationen zu dem Abend hier. Das vollständige Programm zum Radical Film Network Meeting 2021 ist hier nachlesbar.
18.08.2021 — Projekte / Veranstaltung