Event: RADICAL FILM NETWORK MEETING 2021, August 25-28, 2021, BUFA Atelier Gardens, Berlin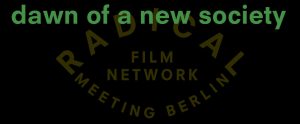 From August 25-28, the second edition of the Radical Film Network Meeting 2021, an event organized in cooperation with the Harun Farocki Institut, will take place in Berlin.
At the instigation of the RFNM team, consisting of Ursula Böckler, Julia Lazarus, and Alexandra Weltz-Rombach, a broad community of film and cultural practitioners will come together to exchange ideas on this year's theme "radical film at the dawn of a new society." Screenings, lectures, talks and workshops will take place in the Atelier Gardens of BUFA in Berlin-Tempelhof.
Based on her contribution to the HaFI 014 pamphlet, Elske Rosenfeld will hold a reading The Window. Reframing Harun Farocki's "Hard Selling" on August 28 at 8:30 p.m. as part of RFNM 2021.
More information about the evening here. The full program of the Radical Film Network Meeting can be found here.
August 18th, 2021 — Projects / Event