Corona literacy, or Inoculating the pandemic
Throughout the corona crisis, the World Health Organization (WHO) has been trying to navigate through a stormy sea, but simultaneously gaining enormous visibility and renown. It has been summoned to explain its hesitant response to the Wuhan outbreak of this new corona strain, and now Donald Trump is scapegoating the organisation in a (typically despicable) attempt to deflect from his own administration's failure to respond adequately to the Covid-19 pandemic. As important as it may be, however, this is not the place to enter into quarrel around Trump's April 15 de-funding of the WHO for its alleged China-friendly bias. Instead, the purpose is to focus on the WHO for its animated educational material on health issues, epidemics, and the coronavirus crisis in particular through which it reaches out to its–by definition–global public.
Unfortunately, certainly regarding the three 2020 learning videos featured here, the WHO provides little if any information on its website regarding the makers of these clips (or the experts advising them). Indeed, knowledge of the creative environments and pedagogical concerns behind this audio-visual material on the crisis would be an interesting entry point for discussing their respective virtues and failings. Generally speaking, such videos are an attempt to simplify the scientific and policy discourse to the degree by which the non-expert and a child audience are able to make sense of it and act accordingly. These videos therefore are means of public perlocutionary speech, they interpolate the subject in its pandemized condition, and have to be read and evaluated thusly, i.e. as ideological media or mediatized ideology.
There is no need to emphasise that the education of the pandemic happens on numerous levels and in different narrative and visual registers, depending on the assumed audiences and what is assumed in terms of age, class, gender, race, etc., as well as on the interests of those doing the teaching and providing the instructional material.  This may seem like stating the obvious, but it should be pointed out here that epidemics and pandemics are actually being taught—and have been taught for quite a while prior to the arrival of the coronavirus crisis. Teaching the pandemic has been taking place in schools and other sites of formal education, most usually in biology courses. However, it is also a field of activity shared by various state agencies, NGOs, educational departments of scientific institutes and museums, as well as small DIY online projects. And they come in a–by now–familiar visual jargon and didactic modality transposing epidemiological knowledge and expertise on disaster preparation into a language regarded as suitable for the lay people and the young, to be rounded up as being pretty much "kids' stuff."
Live Science, a popular science website now online for a decade lists "activities and online resources for homebound kids" to yield its "coronavirus guide" and an "ultimate kids' guide to the new coronavirus," persists in rather conventional non-animated text and stock agency illustrations (courtesy of Shutterstock image).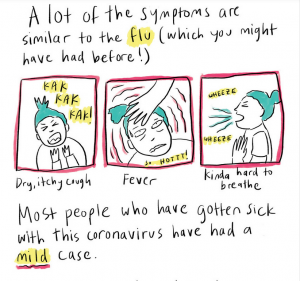 Likewise, "Just for Kids: A Comic Exploring the New Coronavirus" by Malaka Gharib, an editor of the US National Public Radio (NPR) and the author and illustrator of I Was Their American Dream: A Graphic Memoir (about being a first-generation Filipino Egyptian American) is no animated video. However, in skilfully deploying the comic strip semiotics gets its message across a great deal more smartly and interestingly than the Live Science material.
Viola and David (surnames unknown) from Neural Academy are proponents of an independent visual pedagogy focusing on scientific and health matters. The goal behind NA, they state, "is to create funny, visually-stunning, and easily learned content to help students learn material taught in high school and university." Viola has degrees in Neuroscience and Geoscience and recently graduated from the University of Toronto. "She tries to cover topics that are difficult to study and/or have limited online material available."
Neural Academy's videos on the coronavirus are 5-minute slide show-like clips, resembling power point presentations more than actual animation films, but do a good job explaining the disease's characteristics and symptoms.
What interests me in the field of text/image online tutorials and instructional videos most, however, are the problems inherent in the reduction and modulation of the complexity of epidemiological fact. Moreover, the importance drawing and illustration art are granted for this purpose, and the background and experience from which such instructional visuals on the coronavirus crisis are produced, inform this translation and reduction that aims at didactic efficiency. The choices for style, technique, look etc. assume considerable relevance, particularly as they often tend to be neglected and ignored, simply taken for granted and thus beyond perceptive attention or out of the crosshairs of any critical perspective.
The current production of learning material targeting a young audience that is largely home-based and home-schooled these weeks did not come into existence without knowledge of preceding visual materials created for teaching and guiding through epidemics. Their efficiency in inoculating the pandemic by pedagogical means has depended by necessity on literacies developed prior to the current crisis.
Outbreak Preparedness, The London School of Hygiene & Tropical Medicine (script development: Hilary Bower, Josie Gallo, Maryirene Ibeto, Adrienne Testa, Jimmy Whitworth; animation: Alternative View Studios, London). This animation is part of the LSHTM free online course on "Disease Outbreaks in Low- and Middle- Income Countries"
As to be expected, there are visual producers who have specialized on the visualization of epidemics and health hazards, supplying interested NGOs and scientific organizations with teaching aids, how-to manuals and animated guidebooks for preparation. One such web and digital content agency is the London-based Alternative View Studios, founded twenty years ago by Neil Thompson, that claims: "We entertain, educate and train through animated story-telling as well as create innovative games and websites." AVS "combine project management know-how and creative expertise to produce animations, games and websites for the charity, education and health sectors" and "create and produce short-form animation to promote, educate and raise awareness of subjects for a wide range of sectors. Tackling subjects such as children's mental health, malaria and Ebola with sensitivity and compassion, we ensure the messaging is appropriate and well-balanced." Through animated storytelling, AVS venture to, "raise awareness and train viewers," using animation as "an effective way of simplifying complex subjects." The above clip on "Outbreak Preparedness" for the London School of Hygiene & Tropical Medicine may serve as an example of how advanced and how limited these types of storytelling are at the moment. And also how underwhelming such didactic imaging probably has to be to actually bring about a transformation of habitual and social patterns to prepare for and help fight against an epidemic, a natural disaster or other large-scale disruptions of "normality."
The following random selection of pre-corona animated videos has been derived from various sources (initially using TED-related videos and finally with a raft of material from FEMA and the Department of Homeland Security in the US). TH
How Pandemics Spread
, TED-Ed, 2012 (Lesson by Mark Honigsbaum, directed by Patrick Blower)
How do germs spread (and why do they make us sick)?, TED-Ed, 2014,

Lesson by Yannay Khaikin and Nicole Mideo, animation by Ace & Son Moving Picture Co., LLC (
Director:

Richard O'Connor

; artist:

Liesje Kraai; a

nimator:

Taisiya Zaretskaya; n

arrator:

Pen-Pen Chen)
How Do Viruses Jump from Animals To Humans?
, TED-Ed, 2019 (educator: Ben Longdon; director:
Natália Faria; narrator: Addison Anderson; producer: Felipe Grosso, Odirlei Seixas, Liana Vianna)

Preparing for an Influenza Pandemic. A CDC [Centers for Disease Control and Prevention] Perspective, 2018
Introduction to Emergency Planning, FEMA [Federal Emergency Management Agency], 2015
Prepared, Not Scared, FEMA, 2019
National Preparedness Month: Prepared Not Scared 30 seconds, FEMA, 2019
National Preparedness Month: Prepared Not Scared (Gulf States), FEMA, 2019
National Preparedness Month: Prepared Not Scared (Western States) 30 seconds, FEMA, 2019
16.04.2020 — Rosa Mercedes / 02