HaFI 009: Ingemo Engström / Gerhard Theuring: Fluchtweg nach Marseille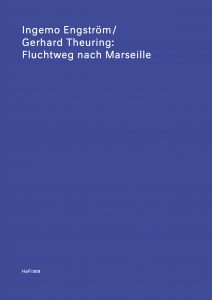 1977 machen sich Ingemo Engström und Gerhard Theuring auf eine Reise durch Frankreich. Sie folgen der Fluchtbewegung der deutschen Emigration in Frankreich 1940/41, filmen die Orte, befragen Zeitzeugen, verknüpfen die Zeiten. Der daraus entstehende Film FLUCHTWEG NACH MARSEILLE trägt den Untertitel "Bilder aus einem Arbeitsjournal (1977) zu dem Roman Transit (1941) von Anna Seghers". Co-Produziert vom WDR, wird er in Mannheim uraufgeführt und hat Erfolg auf internationalen Festivals. Begleitend konzipierten Theuring und Engström ein Heft der Filmkritik, das den Film verlängert, ihn kommentiert, einen Einblick in die Recherche und Produktion erlaubt. Anlässlich des Kinostarts in Großbritannien publizierte die Zeitschrift Framework: The Journal of Cinema and Media den ausführlichen Essay Engströms und Theurings in englischer Übersetzung.
HaFI 009 macht den Text aus der Filmkritik und seine englische Übersetzung im Faksimile wieder zugänglich. Neben dem Essay von Theuring/Engström enthält das Heft zwei Texte von Paul Willemen und Steve Neale, die den Film in Großbritannien in Framework kontextualisierten sowie einen Kommentar des Harun Farocki Instituts.
Das Heft ist für 9 Euro bei Motto Books erhältlich.
* HaFI 009 erscheint im Rahmen von Archive außer sich, einem Projekt des Arsenal – Instituts für Film und Videokunst in Zusammenarbeit mit dem Haus der Kulturen der Welt im Rahmen von The New Alphabet, einem HKW Projekt, das vom Beauftragte der Bundesregierung für Kultur und Medien gefördert wird aufgrund der Entscheidung des Deutschen Bundestages.
24.04.2019 — Projekte / Publikation