HaFI 009: Ingemo Engström / Gerhard Theuring: Escape Route to Marseilles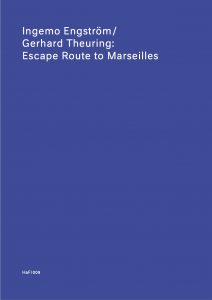 In 1977 Ingemo Engström and Gerhard Theuring embark on a journey through France. They trace the escape route of the German emigration in France 1940/41, documenting the places, talking to witnesses, relating the temporal layers. The film ESCAPE ROUTE TO MARSEILLES that was the result of this journey, carries the subtitle "Images from a working journal (1977) on the novel Transit (1941) by Anna Seghers". Produced by the WDR, it premiered in Mannheim and had success at international festivals. Accompanying the film, Theuring and Engström conceived an issue of the journal Filmkritik that extends the movie, comments upon it, provides an insight into the research and production process. On the occasion of its theatrical release in Great Britain, Framework: The Journal of Cinema and Media published the comprehensive essay by Engström and Theuring in English translation.
HaFI 009 republishes the essay from Filmkritik and its English translation in facsimile. In addition to the essay by Theuring / Engström, the booklet contains two texts by Paul Willemen and Steve Neale, who contextualized the film in the UK for Framework, as well as a commentary by the Harun Farocki Institut.
HaFI 009 is available for 9 Euro at Motto Books.
* HaFI 009 is published within the framework of Archive außer sich, a project of Arsenal – Institute for Film and Video Art in cooperation with Haus der Kulturen der Welt as part of The New Alphabet, a HKW project supported by the Federal Government Commissioner for Culture and the Media due to the ruling of the German Bundestag.
April 24th, 2019 — Projects / Publication