Dossier zum WDR in den 1970er Jahren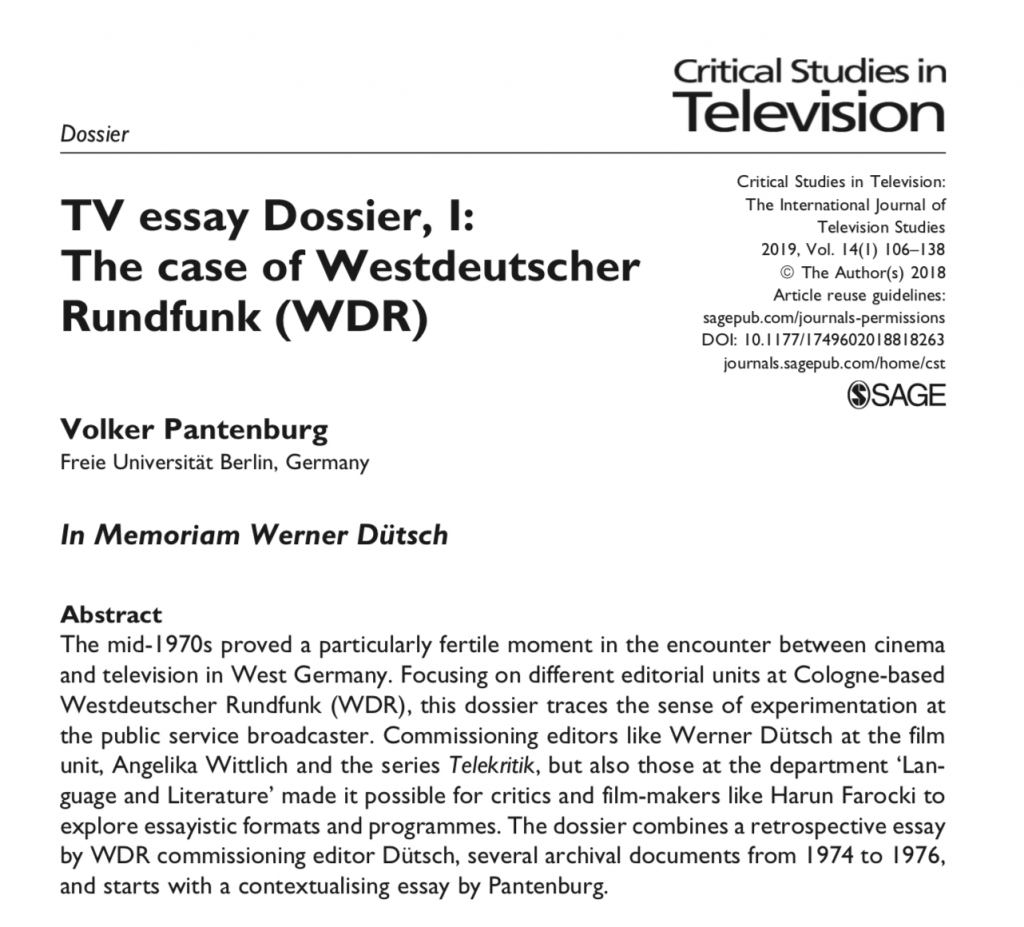 Beim Essay Film Festival 2017 entstand die Idee, ein Dossier für die Zeitschrift "Critical Studies in Television" zusammenzustellen, das die sich einigen Facetten der Arbeit des WDR in Köln in der Mitte der 1970er Jahre widmen sollte.
Vorbereitend erschien im Online-Magazin NECSus ein Schwerpunkt, der auch drei Arbeiten aus dieser Zeit, darunter Farockis "Telekritik" zu Basil Wrights Film SONG OF CEYLON zugänglich machte:
* Towards an alternative history of the Video-Essay: The Case of Westdeutscher Rundfunk, Cologne
Im März 2019, anlässlich des Essay Film Festivals 2019, bei dem Arbeiten von Günter Peter Straschek gezeigt wurden, darunter die beim WDR (Redaktion: Werner Dütsch) entstandene fünfteilige FILMEMIGRATION AUS NAZIDEUTSCHLAND, ist nun das Dossier in CST erschienen
Es enthält einen kontextualisierenden Essay von Volker Pantenburg, einen Erinnerungstext von Werner Dütsch und drei Dokumente, darunter die erste Seite des Exposés zu ERZÄHLEN (1975) von Harun Farocki und Ingemo Engström.
Alle Texte sind für kurze Zeit (link) gratis als PDFs online zu finden, dann verschwinden sie hinter der Paywall.
06.04.2019 — Projekte / Forschung