Filmkritik Nr. 335–336, Nov.-Dez. 1984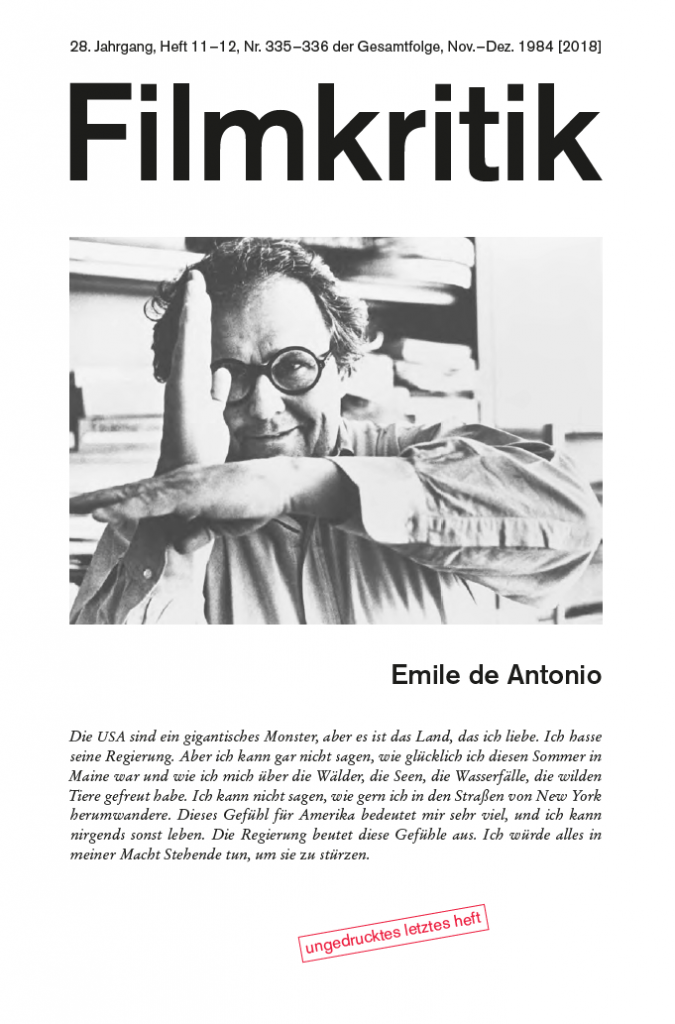 Im Oktober 1984 führte Arno Luik ein mehrtägiges Gespräch mit dem amerikanischen Dokumentarfilmer Emile de Antonio. Es geht um die Anfänge des New American Cinema und Jonas Mekas, um die New Yorker Kunstszene mit John Cage, Robert Rauschenberg und anderen, um de Antonios Filme wie IN THE YEAR OF THE PIG, PAINTERS PAINTING und UNDERGROUND, um abenteuerliche Geschäfte mit Nylonseilen und Gesichtsmasken der US Army.
Das Gespräch wäre zentraler Bestandteil der Filmkritik-Ausgabe 335/336 gewesen, die von Jürgen Ebert konzipiert worden war. Die Texte waren bereits im Satz, dann fehlte das Geld für den Druck. Die Filmkritik stellte ihr Erscheinen ein.
Jetzt wird die damals nicht veröffentlichte Ausgabe während des Festivals "Edit Film Culture!" veröffentlicht und darüber hinaus im Buchhandel und beim Verlag Brinkmann & Bose erhältlich.
Mehr Informationen über unseren Beitrag im Rahmen von Edit Film Culture! hier.
* Die Publikation Filmkritik Nr. 335–336, Nov.-Dez. 1984 ist im Rahmen von Edit Film Culture! entstanden, einem Projekt der silent green Film Feld Forschung gGmbH in Zusammenarbeit mit Jonas Mekas/Anthology Film Archives, Arsenal – Institut für Film und Videokunst e. V., SAVVY Contemporary e.V., Harun Farocki Institut, Spector Books und Lithuanian Culture Institute. Gefördert durch den Hauptstadtkulturfonds.
30.06.2018 — Projekte / Publikation