Against Resilience (Journal of Visual Culture & HaFI, 26)
This is the twenty-sixth instalment of a collaborative effort by the Journal of Visual Culture and the Harun Farocki Institut, initiated by the COVID-19 crisis. The call sent to JVC's editorial board, and a wide selection of previous contributors and members of its extended communities, described the task as follows: "There is a lot of spontaneous, ad hoc opinion-making and premature commentary around, as to be expected. However, the ethics and politics of artistic and theoretical practice to be pursued in this situation should oblige us to stay cautious and to intervene with care in the discussion. As one of JVC's editors, Brooke Belisle, explains: 'We are not looking for sensationalism, but rather, moments of reflection that: make connections between what's happening now and the larger intellectual contexts that our readership shares; offer small ways to be reflective and to draw on tools we have and things we know instead of just feeling numb and overwhelmed; help serve as intellectual community for one another while we are isolated; support the work of being thoughtful and trying to find/make meaning…which is always a collective endeavour, even if we are forced to be apart.'" TH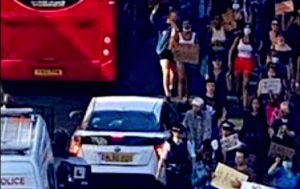 Protest on Peckham High Street against the murder of George Floyd. Original image by Liam Rezende.
Against Resilience
By Helene Kazan
The British government's herd immunity policy, implemented in response to the outbreak of COVID-19, has revealed a condition of institutional racism and structural violence, in which Black, Asian, and Minority Ethnic (BAME) communities have been affected by a death rate at least twice as high as that in white communities. However, the government shows no sign of taking responsibility, or accepting accountability for employing this terrible and unfounded resilience policy. Further, there can be no doubt that in the quick easing of the lockdown measures in Britain this week, there is an understood acknowledgement and calculation by the Conservative government that without specific protective measures being put in place, the same communities will again be disproportionately affected if and when the infection rate begins to increase.
The wartime rhetoric adopted during the COVID-19 crisis portrays the loss of life in this situation as an uncontrollable and unavoidable catastrophe, rather than an outcome of a series of known and unknown governmental decisions. To be clear, the extent of loss of life in both the context of warfare and a pandemic, comes in part from decisions made at state level. The danger of giving in to the logic of resilience measures is that in increasing the resilience of a population, a state might increase its capacity to tolerate imposed risk. Populations and communities can be subjected to a higher degree of suffering whilst allowing them to barely live with that potential threat. In short, resilient populations and communities are produced through state-perpetrated violence as they are forced to live under a calculated condition of increased risk.
The Black Lives Matter protests that took place in London this weekend against the murder of George Floyd reflects a deep-seated need to stand in solidarity against the far reaches of institutional racism and structural violence. On 10 May, a letter was sent from the UBELE community group in Peckham to Boris Johnson asking for support in the call for an independent public inquiry into the disproportionate impact of COVID-19 on the UK's BAME communities.[1] An important demand, as the community group argues that an investigation led by the government simply won't have the capacity to produce a full account of this catastrophe.[2] There was speculation yesterday that the government's review of the situation, led by Public Health England, was going be postponed in response to growing protest in the UK and US.[3] However, following pressure the report was published yesterday forcing the British government to recognise the similarities between the situations and the inequalities it brings to light.[4]
Seeing the Black Lives Matter protest spring into action on Saturday a short distance from my flat in Peckham, I couldn't help but question whether bringing our bodies together in this way plays into the logic of resilience measures the British government has come to calculate as necessary collateral damage for the UK economy to start again.[5] Does protesting with my body mean giving in to the (un)caring biopower of the state?[6] If so, how do I protest, if not with my body? This question, at this time, obviously has a different weight depending on context. It's not a question of my body alone, but of a body politic that stands together to demand that the British government accepts responsibility and accountability for the terrible outcome of employing herd immunity as resilience measure. Further standing in solidarity in the fight against racist and patriarchal governmental formations that sit on a settler colonial logic that allows such calculations to be made in regards to the disproportionate risks that affect our lives. #blacklivesmatter #BAMElivesmatter #nopeacetilljustice
[6] Ideas of a 'caring biopower' are outlined by Couze Venn, "Neoliberal Political Economy, Biopolitics and Colonialism," Theory, Culture & Society 26, no. 6 (2009): 206–233.
Helene Kazan is an artist, writer and Lecturer in Critical Theory at The School of Arts, Oxford Brookes University and a Visiting Lecturer in Media Studies at the Department of Architecture, Royal College of Art, London. Kazan is a 2018-2020 Vera List Center Fellow in Art and Politics at The New School, New York. www.helenekazan.co.uk
02.06.2020 — Rosa Mercedes / 02