Filmkritik at the Edit Film Culture! festival: Juli 7, 2018, silent green Kulturquartier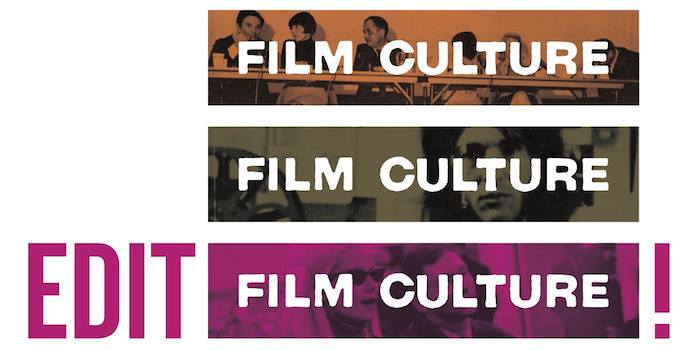 On July 5, "Edit Film Culture!" opens in silent green Kulturquartier – a festival, an exhibition, and a film series that takes its starting point from the iconic independent magazine Film Culture and goes on to link current discourse on film criticism with interdisciplinary approaches and global perspectives on historical and contemporary meanings of the term "film culture."
Within the framework of our cooperation with the "Edit Film Culture!"  festival we will be presenting the magazine Filmkritik, which was founded in Germany by Enno Patalas and Wilfried Berghahn, two years after the first issue of Film Culture. Filmkritik also raised questions concerning the relationship between film and society. Its texts, oriented on Critical Theory and film criticism from Paris, reacted to both contemporary cinema as well as the social situation in post-war Germany. Harun Farocki helped shape profile of Filkmkritik as author and editor in the years from 1974 to 1983. The magazine was discontinued in 1984.
With a delay of over 33 years the last unpublished issue of the magazine, Filmkritik No. 335-336, Nov-Dec 1984,* will now appear. This edition – as a theme issue – is dedicated to the film maker Emile de Antonio. Furthermore, we have re-published two texts from Filmkritik No. 275, November 1979* which provide a brief insight into the magazine's editorial praxis. During the festival "Edit Film Culture!" Jürgen Ebert, an author and editor at the time, will present and talk about the last issue on July 7 in silent green Kulturquartier.
Jürgen Ebert published his first text in Filmkritik on the Spaghetti Western in September 1969. He was one of the magazine's most prolific authors and editors until it was discontinued in 1984. Ebert was the editor of the issue of Filmkritik devoted to Emile de Antonio.
Saturday July 7, 2018, 5:00 pm
Edit Filmkritik
With Jürgen Ebert
Reading with English subtitles, discussion in English
Location: silent green Kulturquartier
Gerichtstrasse 35
13347 Berlin
More information on the entire program can be found on www.editfilmculture.net
* The publication Filmkritik Nr. 335–336, Nov.-Dez. 1984 and both leporellos on Filmkritik Nr. 275, Nov. 1979 are realised within the framework of Edit Film Culture!, a project by silent green Film Feld Forschung gGmbH in cooperation with Jonas Mekas/Anthology Film Archives, Arsenal – Institut für Film und Videokunst e. V., SAVVY Contemporary e.V., Harun Farocki Institut, Spector Books and Lithuanian Culture Institute. Funded by Hauptstadtkulturfonds.
June 30th, 2018 — Projects / Event