HaFI 005: Harun Farocki: Before Your Eyes – Vietnam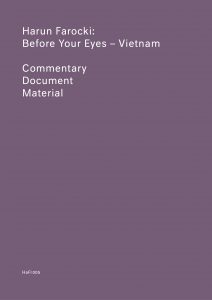 A hybrid attempt at coming to terms with a specific instance of amnesia amongst the West German left in the late 1970s/early 1980s, Harun Farocki's 1982 feature film BEFORE YOUR EYES – VIETNAM combines ideas about the distant, image-guided participation in the war in Vietnam with speculations on Vietnam as a laboratory of advanced modes of capitalist production, whilst reflecting intensely on the dyad of love and work.
This publication assembles selected material produced in 1982 to promote the film and make it accessible discursively. It includes the facsimile of a promotional leaflet that provided both factual information and directions for reading, a selection of unseen photos from the set and from a tiny piece of film (excavated from the archives of the Harun Farocki Institut) documenting a performative trailer held on an improvised stage by Farocki and actor Ronny Tanner during the Berlin Film Festival in 1982. The brochure is introduced by a commentary penned by the Harun Farocki Institut.
Available for 9 Euro here at Motto Books.
The booklet is also available online as a PDF.
September 8th, 2017 — Projects / Publication