[Publication Program]: Coincidences in Prepositions, December 2021-May 2022, Harun Farocki Institut, Philippine Contemporary Art Network (PCAN), and UP Vargas Museum
Coincidences in Prepositions is a publication program conceptualized to review questions, propositions, and solutions that have been set up in the dis/continuities of many colonial milieus. Accessing the seemingly imprecise, insufficient in the task at hand—in its scales, gradients, and panics perceptible or possible to commit to right now, Coincidences engages with the difficulty of juxtaposing worlds and traditions through their images and imaginations. Prepositions then reconsiders different assemblages in thought and practice that have been crafted to work in existing technico-moral procedures and to respond with constantly shifting ethical systems.
The project facilitates the entry of method, theory, and historicism in consecutive times: first, through speech, gesture, and the performative in a series of discursive events on Zoom (All the Missing Limbs of a Pre/oposition); second, through the readily migratory screen emerging from a singular artistic output at the intersection of research-university-museum (Harun Farocki, Vargas Museum, Manila); and third, through inter-con-textual registers published, coded, and edited virtually for a future readership (Rosa Mercedes Issue 04).
Coincidences in Prepositions hopes to reveal how communities of fate can mutually constitute a "problem-space" (David Scott), what concept-work they can instantaneously convene, and which of their and when ethical practices can fuse or diverge in urgencies for contemporary modes of how to live together. Hosted in art, a field assumed to carry "comparison[s] in one and the same time and in consecutive times" (Iveković), this confrontational turn within the asymmetries of the comparative might be the reconciliatory position or foster a possibility of repair in a political program of working together/reaching out. It contributes to the understanding and transformation of denaturalized perspectives and technologies as well as their afterlives and "weak"/"poor" fabrications.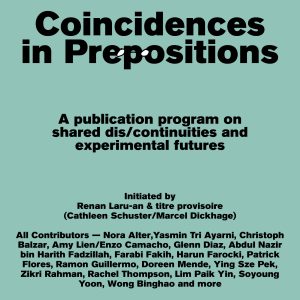 Coincidences in Prepositions links multiple loci of enunciation from Nora M Alter, Yasmin Tri Aryani, Christoph Balzar, Amy Lien/Enzo Camacho, Glenn Diaz, Abdul Nazir bin Harith Fadzillah, Farabi Fakih, Harun Farocki, Patrick Flores, Ramon Guillermo, Doreen Mende, Ying Sze Pek, Zikri Rahman, Rachel Thompson, Lim Paik Yin, Soyoung Yoon, Wong Binghao and more.
Initiated by Renan Laru-an & titre provisoire (Cathleen Schuster/Marcel Dickhage). Reading the scholarship of Aihwa Ong, Goh Beng Lan, and Rada Iveković has been integral in this initiative.
In partnership with the Harun Farocki Institut, Philippine Contemporary Art Network (PCAN), and UP Vargas Museum. Supported by Goethe-Institut.
More information on the Zoom events All the Missing Limbs of a Proposition here.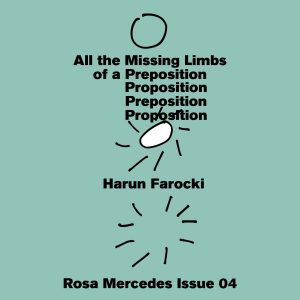 December 5th, 2021 — Projects / Publication