[Online Event Series]: All the Missing Limbs of a Pre/oposition, December 7 & 14, 2021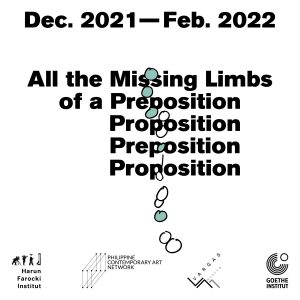 All the Missing Limbs of a Pre/oposition is a series of non-thematic events on Zoom that discursify the inextricability of 'prepositions' and propositions in/from/with each other, on the one hand; and that 'coincide' positions that can uphold different ethical imaginations and action, on the other.
The series is part of the publication program Coincidences in Prepositions initiated by Renan Laru-an & titre provisoire (Cathleen Schuster/Marcel Dickhage) and will be hosted by the Philippine Contemporary Art Network.
December 7, 2021
with:
Yasmin Tri Aryani on "Recontextualizing Tradition"
Farabi Fakih on "Managerialism and Elite Reproduction in 1950s Indonesia"
Patrick Flores on "Hysteric, Gypsy, Heretic"
Moderation by Renan Laru-an
December 14, 2021
with:
 Glenn Diaz on "Notes on fiction and resistance"
Soyoung Yoon on "Reality Would Have to Begin": The Still Image, or Art in the Age of Pandemic"
Paik Yin Lim on "Median – within/out"
Rachel Thompson on "Meat Bag: An Auto-Ethnographic Curative (Neo)Ritual"
Moderation by Wong Binghao
Both events were hold on Facebook and Instagram. Further events in January and February will be announced soon.

More information about the overall project Coincidences in Prepositions here.
The project is realized in partnership with the Harun Farocki Institut, Philippine Contemporary Art Network (PCAN), and the UP Vargas Museum. Supported by Goethe-Institut.
December 5th, 2021 — Projects / Event