HaFI 014: Harun Farocki: Hard Selling: Reframed by Elske Rosenfeld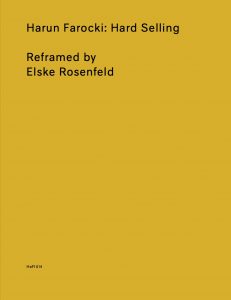 "I also don't know the five new federal states and, if I want to film there, I have to have a leading figure. It is the profiteer, development aid worker and missionary all in one. He breaks into the accession area from the West in army strength. The film is about such a salesman." –– Harun Farocki, 1990/91
HaFI 014 publishes a typescript and archival materials related to the television film Hard Selling (1991) by Harun Farocki. For this unfinished project, Farocki documented an Adidas sales training in East Berlin in 1990. In the period after July 1991 he accompanied a West German Adidas salesman on his trade tour through Mecklenburg-Vorpommern. Thus, Farocki explored the operational details of introducing the logic of the free market in a country formerly trained in planned economy. Although the broadcast of Hard Selling was announced in the program booklet of the DFF—the successor to GDR television—for 13 November 1991, it did not take place. The TV-station was dissolved six weeks later.
The artist Elske Rosenfeld follows the film stills, fragments of conversations and announcement texts of Farocki's Hard Selling. She mobilizes the figure of the "window" as a frame to transpose the languages and gazes at shop windows, screens and trainers into a poetic-analytical editing. In the resulting text/image essay Rosenfeld updates her ongoing archive of gaze-images. An editorial note by Doreen Mende introduces HaFI014.
Elske Rosenfeld, born 1974 in Halle/S. (GDR), works in different media and formats. Her primary focus and material are the histories of state-socialism and its dissidences, and the revolution of 1989/90. Documents and archives are starting points for organising spaces in which these hi/stories can come to be present. Her ongoing project "A Vocabulary of Revolutionary Gestures" investigates how political events manifest and come to be archived in the bodies of their protagonists.
HaFI 014 is available on Motto Books for 9 Euro.
Credits
HaFI 014 is published in the context of Archive außer sich, a project of Arsenal – Institute for Film and Video Art within the cooperation The Whole Life: An Archive Project, together with Haus der Kulturen der Welt, Pina Bausch Foundation and Staatliche Kunstsammlungen Dresden. Archive außer sich is part of HKW's project The New Alphabet, supported by the Federal Government Commissioner for Culture and the Media due to a ruling of the German Bundestag.
April 8th, 2021 — Projects / Publication