[Fourth] HaFI residency guest: Cathy Lee Crane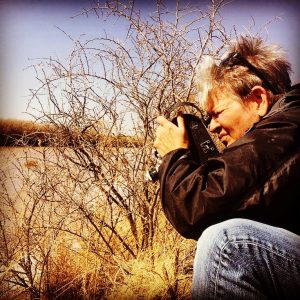 In the late 1990s, experimental filmmaker Cathy Lee Crane (U.S.A.) was involved in researching for the works PRISON IMAGES (film, 2000) and I THOUGHT I WAS SEEING CONVICTS (two-channel video installation, 2000) by Harun Farocki in California. Over the past 25 years Crane has also worked on her own film productions and taught in the Cinema and Photography Department at Ithaca College (New York). Some of her films can be viewed on Vimeo here.
Cathy Lee Crane will dedicate her residency to her ongoing research for the cross-platform media project Drawing the Line, which explores the 1850s International Survey Commission that drew the Western boundary of the US/Mexico border following the Mexican/American War. This 14-part series combines archival and staged images with documentary portraits of border dwellers from border crossing towns along the Western Boundary (from El Paso/Juarez to Tijuana). The just released feature-length documentary Crossing Columbus (www.crossingcolumbus.com) explores one such town and its annual commemoration of Pancho Villa's 1916 raid. This will enjoy a one-day-only online Sneak Preview as part of the Ashland Independent Film Festival's Migration Series on May 28, 2020. 
Furthermore, one of the ongoing research strands of the institute is the "prison images" complex and its contemporary relevance. Since 2018, HaFI conducted various workshops in Berlin and New York. The residency offers the opportunity to continue aspects of this research in exchange with Crane and other invited guests, for which we will provide regular updates over the coming months.
May 26th, 2020 — Residency / 2020/22