Re-Relations (Journal of Visual Culture & HaFI, 12)
This is the twelfth instalment of a collaborative effort by the Journal of Visual Culture and the Harun Farocki Institut, initiated by the COVID-19 crisis. The call sent to JVC's editorial board, and a wide selection of previous contributors and members of its extended communities, described the task as follows: "There is a lot of spontaneous, ad hoc opinion-making and premature commentary around, as to be expected. However, the ethics and politics of artistic and theoretical practice to be pursued in this situation should oblige us to stay cautious and to intervene with care in the discussion. As one of JVC's editors, Brooke Belisle, explains: 'We are not looking for sensationalism, but rather, moments of reflection that: make connections between what's happening now and the larger intellectual contexts that our readership shares; offer small ways to be reflective and to draw on tools we have and things we know instead of just feeling numb and overwhelmed; help serve as intellectual community for one another while we are isolated; support the work of being thoughtful and trying to find/make meaning…which is always a collective endeavour, even if we are forced to be apart.'" TH
Re-Relations
Some bought so much food, so others could not.
Will I have enough to eat? I'd rather not eat at all than just a little. My mother used to make spam with tinned mushrooms and rice, when she could. The smell of my dog's food sometimes entices me. I was accustomed to source nourishment in unexpected places, way into my 30s. I knew where to look for it, and I was not alone. On the day before lock-down, my friend told me about the schoolgirl he just saw scoffing cold pizza into her mouth at Lidl, and how, wanting to protect her, he blocked the sightline of the security guard who was slowly turning towards them. But he, instead, said, "don't worry, she comes here often, I am watching, so no one disturbs her". This is care. This is knowing, by those who know.
As a society, in a way unlike any other, the question is out in the open: what does it mean to consider the lives of others?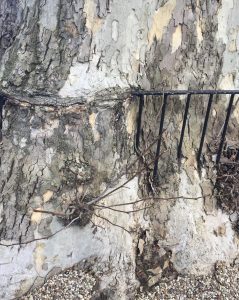 The iron fence, once absorbed, in time, will make the core stronger than wood alone.
Andrea Luka Zimmerman: I am an artist and filmmaker. My work is concerned with marginalisation, social justice and a search for radicalised re-relations, between people, place, ecology. I am a Reader at Central Saint Martins. www.fugitiveimages.org.uk
May 4th, 2020 — Rosa Mercedes / 02