Collectivize Facebook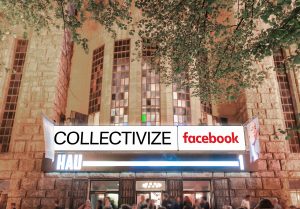 I'm writing this on March 26—the day when the "pre-trial" event for Jonas Staal and Jan Fermon's lawsuit against Facebook was supposed to take place at HAU in Berlin. By now, of course, Collectivize Facebook is part of a gigantic archive of cancelled or postponed events,at least in its originally planned form: the site http://collectivize.org is up and running, and at 7 PM, a prerecorded introduction will be broadcast on the HAU's livestream. Given the centrality of physical assemblies (from people's tribunals to reading groups, from openings to performances, from lectures to training sessions) to contemporary aesthetic and activist practice, it is hard to disagree with Kader Attia's rant on Facebook (of course!) about neoliberal powers that be no longer needing "the police" because "we will stay home as perfect puppets of their mistakes."
The Collectivize Facebook pre-trial had itself been announced on Facebook (of course!), thus performing the dialectic of complicitness between social media platforms and critical cultural events. This kind of enactment of entanglement only emphasizes the project's point about Facebook being too fundamental to our lives to be left in the hand of private investors. Meanwhile, as Covid-19 puts more and more people in conditions of physical isolation, this drives them (us) even more in the arms of corporate, proprietary software, from Facebook to Skype and ZOOM (even if media autonomists such as Geert Lovink exhort us to use Jitsi). How do the various platforms co-produce what we are, see, and do—while we produce behavioural surplus for them?
Collectivize Facebook only becomes a more urgent project now that its realization in meatspace is blocked, and Staal rightly pushes it forward through corona-compatible media. For a publication I'm currently editing (the BAK reader Deserting from the Culture Wars), Dan McQuillan has written a manifesto for a socialization and recomposition of AI through people's councils. It would be a grave mistake to think of Staal and Fermon's project or McQuillan's proposition as Schnee von gestern, as quaint relics of pre-corona culture. If anything, their relevance has been exacerbated as a new wave of accumulation builds—with the algorithmic production of subjectivity and sociability, as well as the biopolitical gestation of life through patent-driven healthcare, being in the forefront of corona-era disaster capitalism.
In our compromised and entangled ways, we try to keep going, trying to transmutate heteronomy into shades of autonomy. Kader Attia spoke of "perfect puppets." It may be heartening to remember that, from Freud to Kokoschka and from Mike Kelley to Chucky, puppets and dolls have long revealed their capacity for uncanny shenanigans.
March 26th, 2020 — Rosa Mercedes / 02