HaFI Presents #01: NIEMANNS ZEIT – EIN DEUTSCHER HEIMATFILM, dir. Marion Schmid/Horst Kurnitzky, (FRG 1985), September 11, 2019, Arsenal Cinema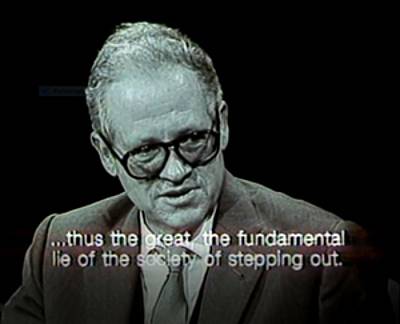 The Public Screening, which we have organized for over two years in the Arsenal Cinema, is now being continued with a curated program. This time the Harun Farocki Institut has given "carte blanche" to the film maker and former colleague of Farocki, Stefan Pethke.
NIEMANNS ZEIT – EIN DEUTSCHER HEIMATFILM (Marion Schmid, Horst Kurnitzky) an essay film made in West Berlin screened out of competition at the Berlinale of 1985. A lonely academic played by Gerd Wameling, who was part of Peter Stein's Schaubühne ensemble at the time, carries out research into the images and texts of National Socialism. A sparse mise-en-scène. Documentary sequences. And right in the middle, a formal island of black-and-white in which three men – a biologist, the philosopher of religion Klaus Heinrich and the most famous mountaineer in the world – are confronted with their very different respective notions of nature.
Marion Schmid, a co-publisher of Carl Einstein's writings, and Horst Kuznitsky, the author of Triebstruktur des Geldes knew Farocki from Heinrich's lectures at the FU, which were open to all and attracted a wide spectrum of curious attendees.
In the presence of Marion Schmid and Horst Kurnitzky
Moderation: Stefan Pethke
Niemanns Zeit – Ein deutscher Heimatfilm
Marion Schmid and Horst Kurnitzky FRG 1985
With Gerd Wameling, Reinhold Messner, Klaus Heinrich
35 mm OV/EnS 113 min
The Harun Farocki Institut Presents
Wed, 11.09.2019, 7.00pm, Cinema 1
Location: Arsenal – Institut für Film und Videokunst e.V.
Potsdamer Strasse 2, 10785 Berlin
Tickets: 8 Euros / 5 Euros (Members) / 3 Euros (Children/Berlin-Pass)
September 2nd, 2019 — Projects / Event