HaFI 010: Werner Dütsch: WDR – As You See – Lola Montez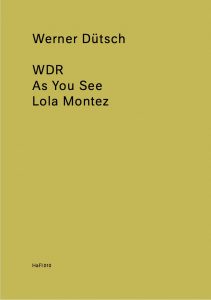 Werner Dütsch, together with other commissioning editors of the film department of Westdeutscher Rundfunk (WDR) Cologne, devoted his work to the past and present of the cinema like few others. The editors served as initiators and co-producers, organizing retrospectives of film classics on television as well as accompanying educational film programs (precursors of what are now called "video essays," flourishing on the Internet); they were mediators and door openers. In the 25 years between "Industry and Photography" (1979) and "Nothing Ventured" (2004), Dütsch has collaborated with Farocki on 15 films.
The publication Werner Dütsch. WDR – As You See – Lola Montez features three texts: an autobiographical essay by Dütsch on his work at the WDR film unit; a concise, as yet unpublished essay on Farocki's film "As You See" (1986) and a comprehensive review that Farocki wrote after the publication of the book "Lola Montez. Eine Filmgeschichte" written by Dütsch and Martina Müller. The booklet also contains a selected bibliography of Dütsch's writings and an extensive list of the films and film series he supervised at WDR.
HaFI 010 can be ordered at Motto Books here.
August 4th, 2019, Projects / Publication