Public Screening #12: FOLIE ORDINAIRE D'UNE FILLE DE CHAM (1986, F), Jean Rouch, March 13, 2019, Arsenal Cinema
Public Screening — the Harun Farocki Institut presents: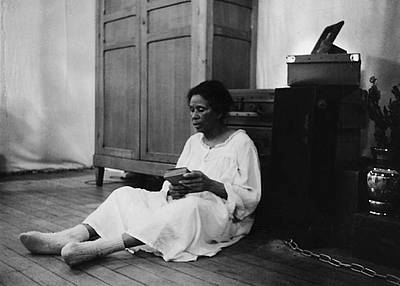 For our next Public Screening we selected two films by Jean Rouch: FOLIE ORDINAIRE D'UNE FILLE CHAM (1986) and PORTRAIT DE RAYMOND DEPARDON (1983).
Ethnographic film was a constant point of reference for Harun Farocki and offers an example of how film and research are intertwined. Of Jean Rouch's 12 films in Arsenal's archive, we will screen one of the least known. FOLIE ORDINAIRE D'UNE FILLE DE CHAM diverges from traditional ethnographic work and is instead a multi-layered media translation. "Taking a text by Julius Amédée Laou, a young author from Martinique, that was staged in the theater by Daniel Mesguish, Jean Rouch transposed the plot to a hospital to give it a 'scientific' frame: A psychiatrist named Charcot presents a spectacular case to his colleagues so that they can themselves evaluate it. The viewers are the witnesses of this presentation alongside the doctors." (Forumsblatt) The film will be preceded by a film in which Raymond Depardon and Jean Rouch film each other filming.
Portrait de Raymond Depardon
F 1983, 16 mm, 11 min, OV
Folie ordinaire d'une fille Cham
F 1986, 16 mm, 79 min, OV/GeS
Public Screening – The Harun Farocki Institut presents
Wed, Mar 13, 2019, 7:30pm
Location: Cinema 2, Arsenal – Institut für Film und Videokunst e.V.
Potsdamer Strasse 2, 10785 Berlin
Free admission
February 27th, 2019 — Projects / Event