Public Screening #10: Le Charbonnier/El-Faham: Mohamed Bouamari, November 1, 2018, Arsenal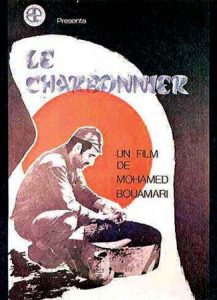 For this edition we have invited the third Harun Farocki residency scholarship holder, Ali Hussein Al Adawy. For the viewing Al Adawy has selected the film LE CHARBONNIER/EL-FAHAM (1972) by Mohamed Bouamari from the Arsenal archive.
"Belkacem, a former resistance fighter for the ALN (Armée de Libération Nationale, the military arm of the National Front for Algerian Independence), works as a charcoal burner and lives out a daily battle with nature. He transforms wood into coal and tries to sell it at the big village markets so that he, his family, his wife and two children, can survive. After gas is introduced as a source of energy, he loses his job and flees to the capital in search of work. When these attempts fail, he returns to his village defeated and finds his wife has switched sides: dreaming of independence, she has now started to work in the textile factory." (Ali Hussein Al Adawy)
The print seems to be in bad shape, but we will give it a try. (HaFI)
Le Charbonnier/El-Faham
Mohamed Bouamari, ALG, 1972
Production: ONCIC (Algeria)
35 mm, 99 min, OV with German subtitles
Thursday November 1, 2018
7.30 p.m.
Cinema Arsenal 2
Potsdamer Strasse 2
10785 Berlin
Free admission
Screening with Ali Hussein Al Adawy
October 25th, 2018 — Projects / Event