Public Screening #07: Robina Rose: Nightshift, May 30, 2018, Arsenal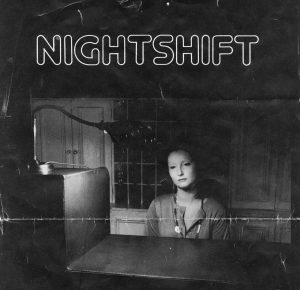 At the occasion of the Public Screening held at the Cinema Arsenal, we will present two films NIGHTSHIFT (1981, GB) by Robina Rose and LARISSA (1980, USSR) by Elem Klimov, both film copies are located at the Arsenal archive.
NIGHTSHIFT (1981) by Robina Rose (in collaboration with Nicola Lane) was shot as a low budget film over five nights at the Portobello Hotel in west London, where the filmmakers regularly worked to make ends meet. It was created in parallel to other important projects by British filmmakers of the 70s and early 80s, which explored the work of women in relation to politics, film, desire, and society. Today, the film is largely unknown, although the info-sheet for the 12th International Forum of New Cinema states that it was the "best British film of this edition" of the Edinburgh Film Festival; with filmmaker Jon Jost on the camera, it also entered the American independent film scene. We are showing NIGHTSHIFT together with LARISSA (1980) by Elem Klimov, a cinematic tribute to Larissa Sheptiko, one of the most significant Soviet film directors.
Nightshift
Robina Rose Great Britain 1981
16 mm, OV/GeS, 67 min
Larissa
Elem Klimov USSR 1980
35mm, OV/GeS, 20 min
Wednesday, May 30, 2018
7 p.m.
Kino Arsenal 2
Arsenal – Institut für Film und Videokunst e.V.
Potsdamerstr 2
10785 Berlin
May 25th, 2018 — Projects / Event