Harun Farocki Retrospective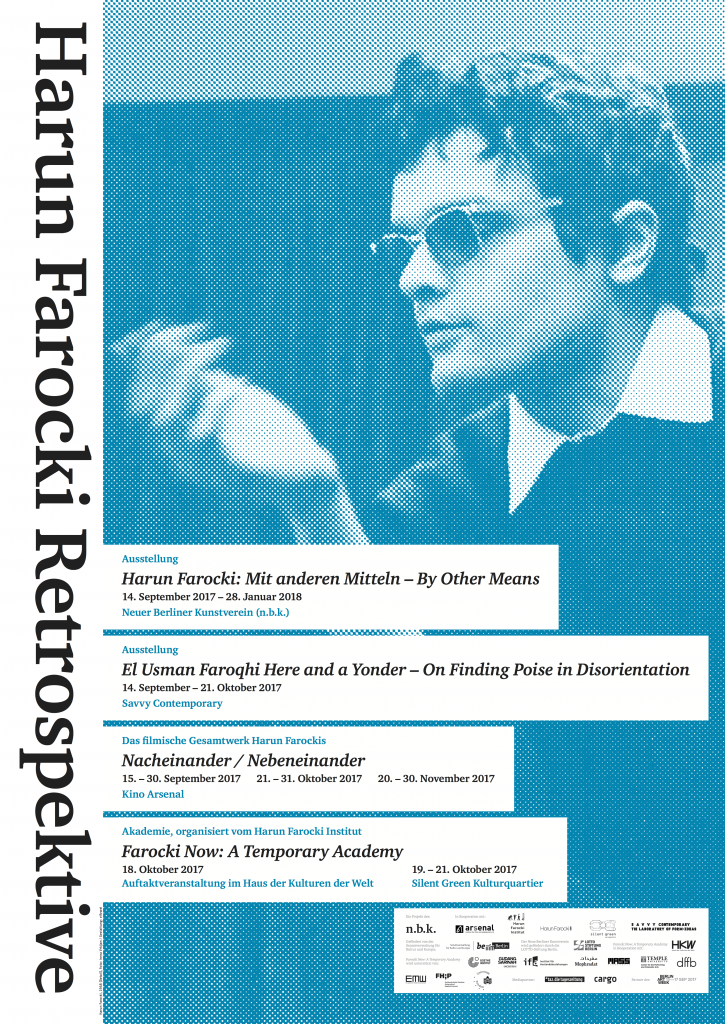 Following the opening of the exhibitions "Mit anderen Mitteln / By Other Means", curated by Antje Ehmann und Carles Guerra at "neuer berliner kunstverein" (n.b.k.), and "El Usman Faroqhi Here and a Yonder – On Finding Poise in Disorientation" at Savvy Contemporary this Wednesday, the comprehensive retrospective of Harun Farocki's work for cinema and television starts tonight at Kino Arsenal. "Year by Year" and "Side by Side", the two series that continue until the end of November, were curated by the Harun Farocki Institut together with Kino Arsenal (Stefanie Schulte Strathaus).
More information about tonight's program and the films and TV productions that are screened in September is on the Arsenal's website (here).
The website www.harunfarockiretrospektive.org provides an overview of the Harun Farocki Retrospective* which also includes the temporary Academy "Farocki Now" at "Haus der Kulturen der Welt" (HKW) and silent green.
Also today, at 5 pm, the exhibition "Harun Farocki und die Musik" opens at Galerie Barbara Weiss.
* The Harun Farocki Retrospective is a project of the Neuer Berliner Kunstverein (n.b.k.) in cooperation with the Arsenal Institute for Film and Video Art, the Harun Farocki Institut, the Harun Farocki GbR, the silent green Kulturquartier, the publishers Buchhandlung Walther König, Savvy Contemporary, and the Haus der Kulturen der Welt within the framework of the Berlin Art Week and is sponsored by the Senate Department for Culture and Europe.
September 15th, 2017 — Projects / Event