HaFI 006: Christa Blümlinger/Harun Farocki: The ABCs of the Essay Film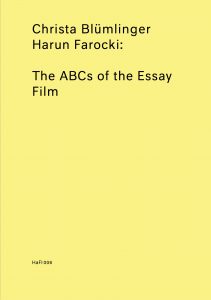 In Autumn and Winter 2013/2014, Christa Blümlinger and Harun Farocki worked on the dialogical "ABCs of the Essay Film," which is published here for the first time in its original German version. In 26 short paragraphs, reacting to key terms suggested by Christa Blümlinger (from "A for Adorno" to "Z for Zidane"), Farocki explores his proximity, but also his distance to filmmakers like Chris Marker, Jean-Luc Godard, Artavazd Peleshian, or Alexander Kluge and speaks about specific operations in his films, TV programs, and installations.
The text is complemented by a short text by Farocki which was published in 1987 to accompany a film program at the Berlin Akademie der Künste, where the essay film is described as a film "that is useful without being subservient and without standing to attention."
Available for 5 Euro here at Motto Books.
The PDF is also available here for a limited period of time.
September 8th, 2017 — Projects / Publication