HaFI 017: Karolin Meunier: Aller-retour et aller. On "Wanda" and "Supplément à la vie de Barbara Loden"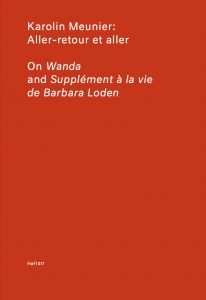 In 2019, Karolin Meunier presented the performance Aller-retour et aller for the first time at Arsenal Cinema in Berlin. This was followed by a screening of the film Wanda (1970) by Barbara Loden, one of the most important works of independent filmmaking by female directors. For HaFI 017, Meunier documents her performance script. Among other references, she engages with Nathalie Léger's book Supplément à la vie de Barbara Loden (2012) by translating text excerpts in dialogue with a friend. In this essayistic novel, Léger follows the traces of the film in her search for the actress and director Barbara Loden.
In HaFI 017: Aller-retour et aller, Meunier's artistic gestures of experimental translation echoes the intertwining of these three women's quest by dissolving the biographies of the film character, the actress, and the novelist: "A woman telling her own story through that of another woman." (Nathalie Léger). The pamphlet includes an afterword by Clio Nicastro.
Karolin Meunier is an artist and writer based in Berlin. Her performances, texts and video works examine the significance of cultural practices for social interaction, for example in translation processes, conversations, or learning techniques. The starting point is often notes, interviews, or autofiction by female authors, which are themselves dialogical in nature. Meunier is part of the collective book shop and publisher b_books in Berlin; her artist book on a work by Italian feminist Carla Lonzi is forthcoming in 2023.
The pamphlet is available for 7 euros from Motto Books and b_books.
Auf der Website von Publics&Publishings ist ein Audioauszug der Performance Aller-retour et aller von Karolin Meunier verfügbar. Hier zum Anhören.
 >> On February 25 at 6 p.m. we will celebrate the launch at the b_books bookstall in the foyer of the Arsenal cinema on the occasion of the Berlinale. <<
HaFI 017 is realized within the framework of Archive außer sich, a project of Arsenal – Institute for Film and Video Art in cooperation with Haus der Kulturen der Welt as part of The New Alphabet, a HKW project supported by the Federal Government Commissioner for Culture and the Media due to a ruling of the German Bundestag.

February 20th, 2023 — Projects / Publication