[Eigth] HaFI Residency Guest: Franz Wanner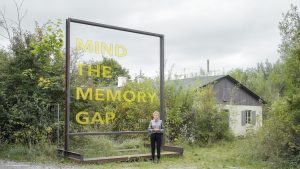 In the spring semester of 2023 (February to July), the artist Franz Wanner will be a guest of the Farocki Forum at the Seminar for Film Studies at the University of Zurich and at the same time a residency guest of the Harun Farocki Institut Berlin. During this time Wanner researches for a planned solo exhibition at KINDL in 2024, which will focus on the Nazi camps and the broad phenomenon of forced labor. The exhibition will follow his current work, Mind the Memory Gap, and will focus on the former Nazi forced labor camp in Berlin Schöneweide, among other sites.
Franz Wanner (born 1975 in Bad Tölz) currently works in Berlin and Zurich. In his artistic work, he investigates complexes such as the German secret service and the armaments industry, their history and current structures, as well as the effects of National Socialism on the ahistorical West German prosperity imperative. The installations, often consisting of cinematic, photographic and linguistic layers, are represented in museums and collections such as the No Show Museum in Zurich / Johannesburg, the Pinakothek der Moderne and the Contemporary Art Collection of the Federal Republic of Germany.
The 8th edition of the Harun Farocki Residency is realized in collaboration with the Farocki Forum in Zurich and KINDL in Berlin.
February 20th, 2023 — 2023