[video repository and discursive program]: Taught to Travel (T2T) by Moad Musbahi and partners in Dakar, Alexandria (on-site) and Beirut, Berlin (online), ongoing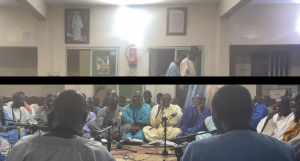 Video still from the project T2T
T2T is an exploration through the creation of a video repository of movement that is taught – a method of learning, and constituted in acts of pedagogic delivery. It takes the form of – individual and community facilitated – commissions and a of discursive program physically across Dakar, Alexandria and online in Beirut and Berlin. T2T operates by creating open briefs that support the production of new video works that evidence the relation between migration and education in all their divergent interpretations. Through a collaborative curatorial process, these briefs are circulated amongst the community of the local partners, edited through workshops and in dialogue with invited interlocutors in the public program.
We recognize that migration exists in multiplicities, across geographic and temporal distances, and is encoded in a various modalities and rituals, transmitted through acts of teaching. We aim to be attentive to how these play out spatially, beginning with specifically designed school buildings,  to domestic settings as oral narration, and the memory of objects, ritual performance and other cultural attitudes in a more widely disbursed 'scene'.
From July 10, T2T in collaboration with RAW Material Company in Dakar, commissioned 15 short documentary videos, less than 15 minutes in duration, from Senegal through an open call process. Participants were asked to document examples of specific stories, acts, singular moments, anecdotes, and rituals that show how journeys and pedagogies come together, in response to a set of prompts (see image below).
Beyond the duration of the project, and in coordination with the Arab Image Foundation, the repository will be synthesized into a collection that will be held and maintained by the partners for future reference, reflection, and re-circulation.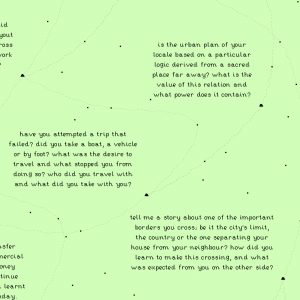 Taught to Travel is a project initiated by Moad Musbahi with Tom Holert/Harun Farocki Institut in collaboration with RAW Material Company, Dakar; Behna el Wakalet, Alexandria; Women on Airplanes, Berlin; and the Arab Image Foundation, Beirut.
Funded by the Goethe Institute's Visual Arts Project Fund.
August 10th, 2022 — Projects / Event