[Sixth] HaFI Residency guest: Marichka Lukianchuk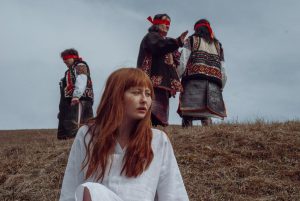 Past Future Mountain (2021), short film (featuring the actress Valeriia Berezovska). Backstage digital photograph by Angelina Andriushina.
Marichka Lukianchuk is now a guest of the Harun Farocki Institut Residency.
In 2021, the visual artist and filmmaker from Ukraine – who also works collaboratively – graduated in Interdisciplinary Arts Studies from Zuyd University of Applied Sciences in the Netherlands. Her short films Past Future Mountain and Spiderweb for Shelter and Hunt have screened at international film festivals.
Read more about her work here and here her article on filmmaking, collective consciousness against war published last month in Rosa Mercedes 05.
This residency is facilitated by the Artists at Risk (AR)-Ukraine Solidarity Group.
May 17th, 2022 — Residency / 2022