Westdeutscher Rundfunk (WDR)
From the late 1960s to the 1990s, the WDR "Filmredaktion" (film unit of the West German Broadcasting channel)—like other "third programs" of the West German public broadcasting system—offered remarkable production opportunities for young filmmakers, many of them graduates (or relegates) from the new film schools in Berlin and Munich. Between 1969 and 1980, the department was headed by Georg Alexander, formerly a film critic in Berlin who had a close association with the Freunde der deutschen Kinemathek (Friends of the German Kinemathek). Thanks to Alexander, three of Skip Norman's films were broadcast in the Kinemathek program slot: Strange Fruit and Washington DC, November 1970 were shown at 9 p.m. on Saturday, August 7, 1971; On Africa was shown at the same time on Saturday, May 20, 1972 together with Richard Besrodinoff's Bloody River (1970) and Helma Sanders' Die industrielle Reservearmee (1971). The only film print of Norman's film On Africa (1970) known to us has been preserved in the WDR archive in Cologne; the Harun Farocki Institut made a digitized copy of it in Autumn 2020.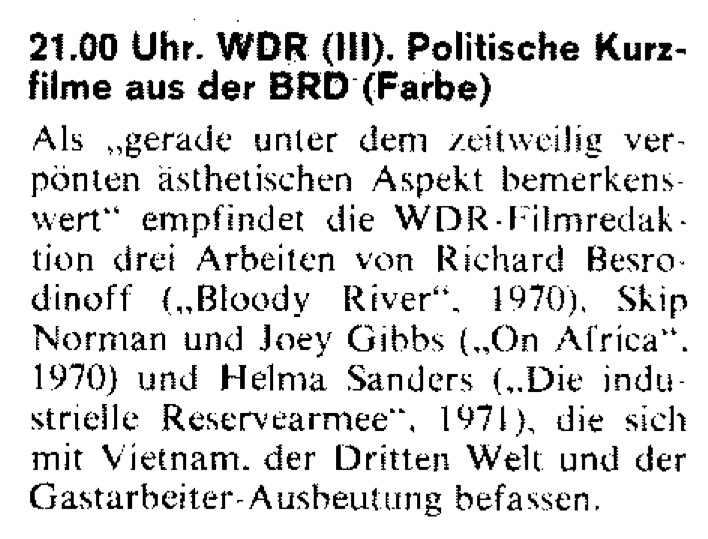 From DER SPIEGEL, no. 21, 1972, p. 162.
November 25th, 2021 — Rosa Mercedes / 03 / Contexts