[Fifth] HaFI residency guest: Hans Carlsson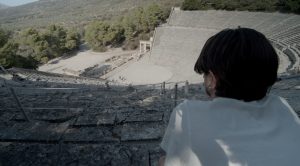 For the fifth HaFI residency in collaboration with IASPIS, we have invited Malmö-based artist, curator and writer Hans Carlsson to spend three months in Berlin starting in early October.
Hans Carlsson's artistic and curatorial practice often revolves around issues such as the history of labour, the antagonism between global progressive socialism and national social democracy and the individuating consequences of institutionalization in western modernity. Topics which are understood as deeply entangled with the history of cinema, art and literature – and lately in Carlsson's practice also put in relation to mythological thinking and the intellectual heritage of Greek antiquity.
Among his curatorial projects, Remembering What Is: Chile's Recent History in Film and Art curated for Lunds Konsthall, can be mentioned. The exhibition featured contemporary art that thematized the early 1970s in Chile, along with a number of films by directors working within the so-called Nuevo Cine Chileno movement. Carlsson's latest finalized artistic project the film HESTIA is since August 2021 part of Malmö Art Museum's collection. The starting point for the film is a written monologue, where the bitter and neglected antique goddess of the hearth and the home Hestia tells about the self and about the history of the home from antiquity to the present day.
Among other places, Carlsson has curated exhibitions for Lunds konsthall and Skånes konstförening (Malmö). His art works have been shown at venues like Tensta konsthall, Malmö Art Museum and DAM Projects London. He has written texts, interviews and essays for magazines such as Kunstkritkk, ArtReview and Art India, as well as for daily newspapers in Sweden.
More information are on the artist's website: https://hanscarlsson.com/
Photo (c) Hans Carlsson
October 5th, 2021 — Residency / 2021