Book Launch: Pause. Fervour: Reflections on a Pandemic, September 20, 2021, 7-9 p.m.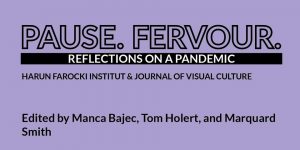 To celebrate our recently published reader Pause. Fervour: Reflections on a Pandemic (edited by Tom Holert, Manca Bajec, and Marquard Smith), a collaboration between Harun Farocki Institut and Journal of Visual Culture, we organize together an online event on:
Monday, September 20, 2021
from 7-21 p.m. (CET)
Register here
Contributors are Alexandra Délano Alonso, Daniel A. Barber Dave Beech, Sara Blaylock, Katarzyna Bojarska, Death Class, Janine Francois, Lina Hakim, Juliet Jacques, Margareta Kern, Lana Lin, Laura U. Marks Joel McKim, Philip Miller and Marcos Martins, Hana Noorali and Lynton Talbot, Bahar Noorizadeh, The Partisan Social Club, Andreas Philippopoulos-Mihalopoulos, Pil and Galia Kollectiv, Plastique Fantastique, John Paul Ricco, Isobel Wohl, and Andrea Luka Zimmerman.
September 14th, 2021 — Projects / Event