Frauen und Film 5, Cover Image
on 15.2.75, the berlin police confiscated film and photographic material of filmmakers skip norman (left) and helke sander (right). the two had filmed a demonstration of "aktion 218" [protests against § 218 which prohibited abortions] in front of the gedächtniskirche in berlin (top right): demonstrators had poured washable red paint on the steps of the church—the red paint as a symbol for the blood that flows during illegal abortions. among other things, the fist in the venus mirror (lower left) had also been painted on the pavement with red paint. while initially the confiscated material was supposed to be used for "preservation of evidence," against which an objection was raised with reference to the right of journalists to refuse to testify, the public prosecutor's office has meanwhile made the two filmmakers into defendants, so that the right to refuse to testify need not be applied to them. the accusation is based on the following points:
the filmmakers would have known about the action, although the flyers that had been distributed did not indicate any specific time.
on the flyer, on the pavement in front of the memorial church as well as on the back of the magazine frauen und film an illustration of the fist in the venus mirror was shown.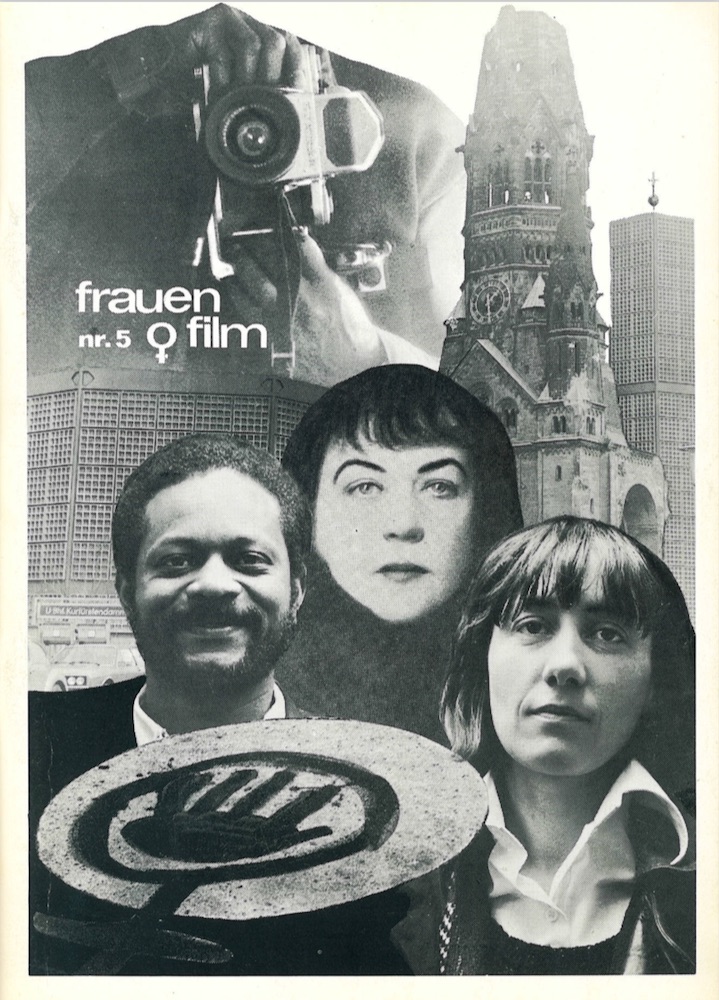 alexandra kollontai (center)—the first women's rights activist and people's commissary for education after the russian revolution, deceased 1952 in moscow—haunts the files of the berlin public prosecutor's office as an accused and wanted person, since her name was under the flyer published by "aktion 218" as the person legally responsible.
a documentation about this incident will be published at the end of may, in which the right of journalists and filmmakers to refuse to testify and the attempted dismantling of civil rights will be discussed in detail. the material can be ordered from frauen und film against advance payment of dm 3,– + 0,50 dm postage to the post office account berlin west, h. lahtela, special account film no. 47101-108.
the collage on the journal's cover is by brigitte tast (hildesheim).
Editorial from Frauen und Film, Issue 5, 1975. Translated by Volker Pantenburg.
Image: Frauen und Film 5, 1974 © Brigitte Tast
[Suggested citation: "Frauen und Film 5, Cover Image" Rosa Mercedes 03/Documents (2021), www.harun-farocki-institut.org/en/2021/04/30/frauen-und-film-5-cover-image/]
April 30th, 2021 — Rosa Mercedes / 03 / Docs