Futuro Roseo (Journal of Visual Culture & HaFI, 47)
This is the forty-seventh instalment of a collaborative effort by the Journal of Visual Culture and the Harun Farocki Institut, initiated by the COVID-19 crisis. The call sent to JVC's editorial board, and a wide selection of previous contributors and members of its extended communities, described the task as follows: "There is a lot of spontaneous, ad hoc opinion-making and premature commentary around, as to be expected. However, the ethics and politics of artistic and theoretical practice to be pursued in this situation should oblige us to stay cautious and to intervene with care in the discussion. As one of JVC's editors, Brooke Belisle, explains: 'We are not looking for sensationalism, but rather, moments of reflection that: make connections between what's happening now and the larger intellectual contexts that our readership shares; offer small ways to be reflective and to draw on tools we have and things we know instead of just feeling numb and overwhelmed; help serve as intellectual community for one another while we are isolated; support the work of being thoughtful and trying to find/make meaning…which is always a collective endeavour, even if we are forced to be apart.'" TH
Futuro Roseo
By BASTARDPRODIGE

We bought some flowers, selecting each based on its color. We dismembered the bouquet in our studio, placing the flowers across the room to create a garden. Repositioning the lighting several times, trying out various compositions, the results appeared as the process developed. We archived the images on our hard drive.
It was February 20th, 2020. The news coming in from Wuhan was frightening but the general belief was that we, in Italy, were far enough away not to be touched by what was happening there. This idea, that the virus would only effect the other, someone somewhere far, collapsed in the following days. Swaying between scepticism and insecurity, underestimation and panic. Normality as we once knew it slowly disappeared once the general lockdown was announced.
Some weeks later, looking at the pictures we shot, we reconsidered that moment as perhaps an anticipation of what was to come.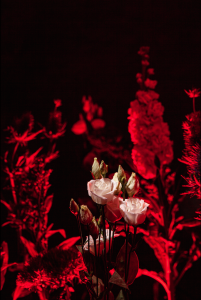 The time of lockdown, could be understood as a slip of the tongue, a temporary delusion, a fissure in the wall. Like every wound, this one too leaves its traces. Like a camera obscura, it leaves an upside down image of the world outside, inside our precarious existence. We will not see this image until it is fully developed and fixed, its development as always, is in relation to time.
We have allowed this to become a state of normality, but in order to find our way out of this burning forest, we must stay awake and lucid, up until the very end.
BASTARDPRODIGE (V. Cozzarini, A. Tutta), Venice, August 26, 2020.
Atej Tutta is an artist and filmmaker based in Venice. From 2009 to 2014 he worked as an Associate Professor at the Academy of Fine Art in Venice. He also works as exhibition designer and has co-curated several transdisciplinary projects. In the field of performing arts, he co-authored a project rewarded at the 53rd Theatertreffen in Berlin. As a set designer and video artist he collaborates regularly with choreographers and theatre directors.
Valeria Cozzarini, based in Venice, works as a mixed media artist and filmmaker. She has won several awards including at the Cortinametraggio Film Festival and Expression Art Movie Film Festival. Most recently she collaborated as animator for a play directed by Vinko Möderndorfer.
January 5th, 2021 — Rosa Mercedes / 02