Workshop: LABOUR IN A SINGLE SHOT, Oct. 3-Nov. 4, 2020, Berlin & Warsaw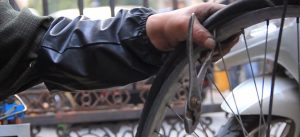 Foto (Fragment): Jun Li, Hangzhou, 2014
Between 2011 and 2014 Antje Ehmann and Harun Farocki initiated and conducted the workshop series Labour in a Single Shot in 15 cities worldwide, which will be continued in Berlin and Warsaw in autumn 2020.
In cooperation with Harun Farocki Institut and with the support of Goethe-Institut Warsaw, the two-week workshop series will take place intermittently between October 3 and November 4, 2020 online and on site in silent green Kulturquartier and Goethe-Institut Warsaw. They will be conducted by the curator and artist Antje Ehmann and the architect Luis Feduchi.
The Open Call (deadline Sept. 25) and the application forms are online here (Berlin) and here (Warsaw).
September 11th, 2020 — Projects / Event