AMERICA – Films from Elsewhere (ed. Shanay Jhaveri): HaFI Contribution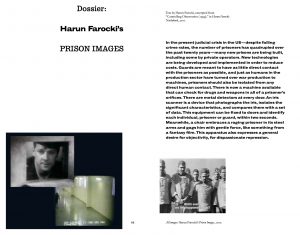 From the mid-1990s onward Harun Farocki dedicated himself intensively to the "prison images" complex. Its contemporary relevance is one of the ongoing research strands of the institute. Since 2018, HaFI conducted various workshops in Berlin and New York. The publication AMERICA. Films from Elsewhere (2019) edited by Shanay Jhaveri presents one outcome from processing Harun Farocki's archive materials on the use of image technologies within the "prison-industrial" complex. The dossier "Harun Farocki's Prison Images", compiled by Tom Holert, Doreen Mende und Volker Pantenburg, consists of a selection of documents and images from the HaFI archive.
Our upcoming residency with Cathy Lee Crane – postponed to 2021 – offers the opportunity to continue aspects of this research in exchange with Crane and other invited guests, for which we will provide regular updates over the coming months.
May 26th, 2020 — Projects / Publication