Supporting our local singers—celebrating the music of Reuben T. Caluza (Journal of Visual Culture & HaFI, 17)
This is the seventeenth instalment of a collaborative effort by the Journal of Visual Culture and the Harun Farocki Institut, initiated by the COVID-19 crisis. The call sent to JVC's editorial board, and a wide selection of previous contributors and members of its extended communities, described the task as follows: "There is a lot of spontaneous, ad hoc opinion-making and premature commentary around, as to be expected. However, the ethics and politics of artistic and theoretical practice to be pursued in this situation should oblige us to stay cautious and to intervene with care in the discussion. As one of JVC's editors, Brooke Belisle, explains: 'We are not looking for sensationalism, but rather, moments of reflection that: make connections between what's happening now and the larger intellectual contexts that our readership shares; offer small ways to be reflective and to draw on tools we have and things we know instead of just feeling numb and overwhelmed; help serve as intellectual community for one another while we are isolated; support the work of being thoughtful and trying to find/make meaning…which is always a collective endeavour, even if we are forced to be apart.'" TH
Influenza 1918 (collaborative music and video project, initiated by Philip Miller)
Supporting our local singers—celebrating the music of Reuben T. Caluza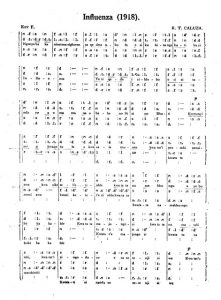 Choral music notation for the song "Influenza" (courtesy of  Howard Phillips, In a Time of Plague: Memories of the 'Spanish' Flu Epidemic of 1918 in South Africa, 2018)

I am a South African composer who has embarked upon a project to assist funding singers and musicians who are currently unable to work and earn money during this period of the COVID 19 lock –down.
After recently reading an article written by Mark Gevisser (The Monthly Review, Business Day, April 7, 2020) I discovered the song "Influenza" from 1918, composed by Reuben T. Caluza, during a period when the Spanish Flu had taken the lives of so many people in South Africa and the rest of the world. After much research, I tracked down an old recording of the song, which was made in 1920. In the past few weeks of South Africa's lock-down, I transcribed it and made an arrangement of this song for voice, piano, and brass.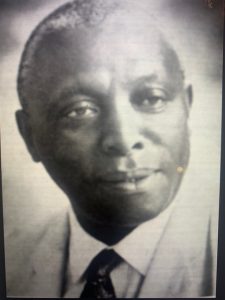 Zulu choral conductor, composer, and teacher Reuben T. Caluza (1895-1964), photographer unknown
I brought together a team of young vocalists, with whom I have collaborated over a period of several decades. They have recorded the song in Zulu, each vocalist recording in their own home and then sending these as voice-messages for me to incorporate into a new rendition of the song. It is my response to the Covid -19 Pandemic.
Assembling all these voices and musicians together, I produced this song as an audio mp3 and music video available to download via many different social media platforms, including; Youtube, Vimeo, Facebook, Soundcloud and Spotify.
Highlighting the interesting parallels between the origins of the song during the Spanish Flu epidemic in South Africa in 1918 and the Covid 19 pandemic, I am also focusing on creating awareness of the difficult financial circumstances which freelance musicians and singers are currently facing. The ensemble of singers who participated in creating this song, rely entirely on live musical productions and gigs to support themselves and their families. This stream of income has abruptly stopped, due to productions and performances being cancelled or postponed, leaving them with no income.
The eight singers who participated in the recording of the song are based in the areas of Masiphumelele, Gugulethu, Langa and Soweto:
Ann Masina (soprano)
Thuli Magubane (soprano)
Lydia Manyame   ( alto)
Lulama Mgceleza (tenor)
Masibulele Malima (tenor)
Lubabalo Velayi ( bass)
Bulelani Madondile ( baritone)
Reuben Mbonambi (bass)
The Campaign went live on May 1, 2020 using the on-line platform, BUSQR, where donations can be made into the relief fund #MusoReliefSA. All funds raised will be distributed amongst the community of local South African singers and musicians, who I have worked with over many years.
https://busqr.co.za/streamer/philip-miller/
Philip Miller is a South African and international composer and sound artist based in Cape Town.  His work is multi-faceted, often developing out of collaborative projects in theatre, film, video and sound installations. Miller is currently an honorary fellow at ARC (The Research Initiative in Archive and Public Culture) at the University of Cape Town
May 13th, 2020 — Rosa Mercedes / 02