April 2020: A Letter from Jim Jarmusch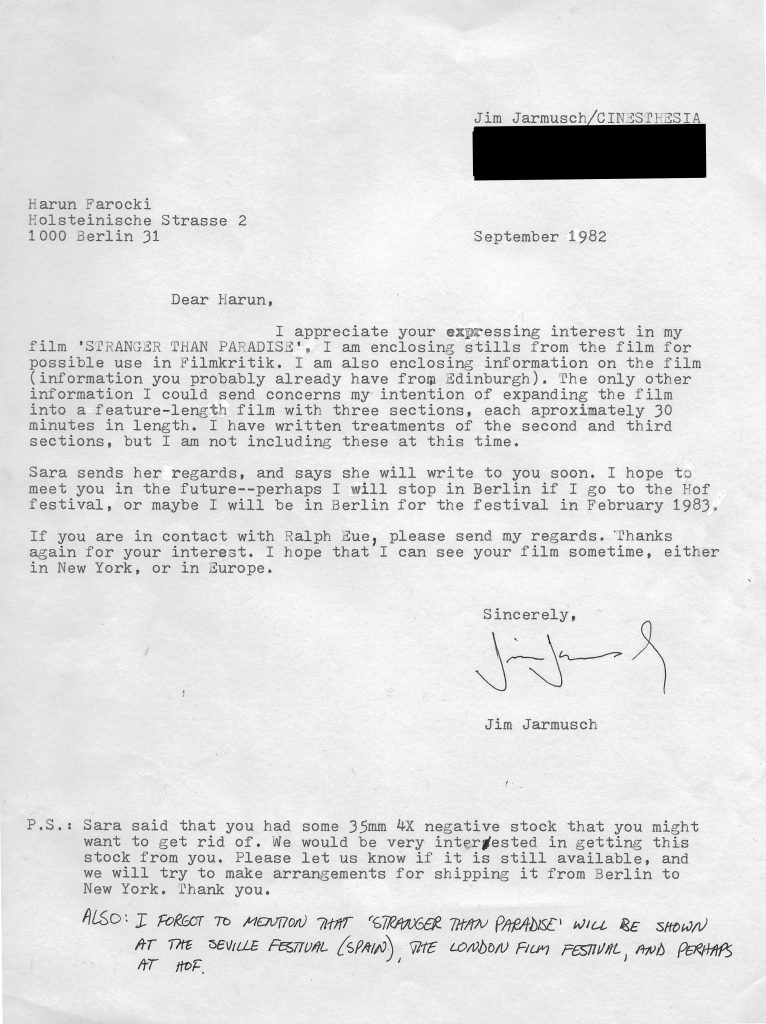 As has been noted, Jim Jarmusch received footage for his short film STRANGER THAN PARADISE from Wim Wenders as well as Jean-Marie Straub and Danièle Huillet. Wenders had some negative stock left over from THE STATE OF THINGS, the black leader that separates the individual shots of Jarmusch's film was a gift from Huillet and Straub.
When he intended to expand the film into a longer feature film with three episodes, Jarmusch also asked Farocki for remaining negative material (a fact that seems to have remained unnoticed in the publications about the film). We have not yet been able to clarify whether Farocki actually sent surplus negative material (presumably from the production of BEFORE YOUR EYES – VIETNAM) to Jarmusch. In any case, his name is in the "Thank you" section of the end credits of the finished film.
In October 1981, the journal FILMKRITIK had dedicated an issue to Jarmusch and his debut film PERMANENT VACATION, including a conversation between Jarmusch and Ralph Eue and Wolfgang Stukenbrock.
[Addendum 10 September 2020: In a letter to Rolf Aurich (sent from the USA) written on 2 March 1997, Harun Farocki states: "Because I donated Jarmush [sic] material for 'Stranger than Paradise', he feels obliged to me – the second half of the sentence is of course not correct".]
April 30th, 2020 — Archive / Showcase