The live-stream's split-screen, or, Urgent domestic politics

2 April 2020, 7:00 p.m. ET/ 6:00 p.m. CST, Teach-In Rising Majority w/ Naomi Klein & Angela Y. Davis, "Movement Building in the Time of the Covid-19 Crisis. A Left feminist perspective on 21st century racial capitalism in this moment," and further contributions by Thenjiwe McHarris, Maurice Mitchell, Cindy Wiesner and Loan Tran; organizd by The Rising Majority and supported by the Working Families Party, #SquadUp, therisingmajority.com
Few days ago, on Friday 3 April 2020 at 1am Berlin time, a Teach-In with political activist, philosopher and author Angela Y. Davis as well as social activist, author and filmmaker Naomi Klein was live-streamed from personal computers at each of their homes. Invited by prison-abolitionist activist Thenjiwe McHarris, they spoke about the Covid-19-crisis. They were joined by community organizers/leaders Maurice Mitchell, Loan Tran and Cindy Wiesner of different grassroots organizations in the U.S.. In the coalition of The Rising Majority[i] they fight for "building a powerful, anti-racist left for radical democracy". Davis' and Klein's political imaginaries engaged with the call for "transformative visions of structural change" in this planetary crisis, as Thenjiwe McHarris began the Teach-In that spanned a classroom across thousands of homes by logging into a webinar online, listening and watching the split image, sharing screens and the link on Social Media.
Shouldn't this crisis demand an urgent politics of the domestic, specifically of those who have the privilege to #stayathome? What kind of visual politics does #stayathome produce as well as demand? How could or should we, who #stayathome, contribute or support the collective labour of "system relevant" workers sustaining the principle needs of society beyond capitalist logics? In other words, instead of waiting for a new left to arise from the ashes of the trauma of 1989 (still), we could make sure that the virus will not leave us alone before its "anti-capitalist instinct," as David Harvey suggested on democracyatwork.info while reflecting on his domestic politics of cooking at home. Without a doubt the virus has infected "global capitalism [that] now appears not sustainable" (AD) anymore.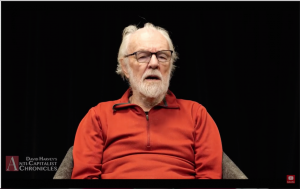 David Harvey, Anti-Captialist Chronicles Compensatory Consumerism, 2 April 2020, democracyatwork.net
How can we foster an ongoing "global conversation" (NK) and "international solidarity" (AYD) fighting racial capitalism, class divide and social injustice, which crystalize in the health-care crisis and the prison-industrial complex as Davis points out? How could we practice a life and society to come across our screens, yet, still from domestic spaces such as the living room, the kitchen, the balcony, or the veranda?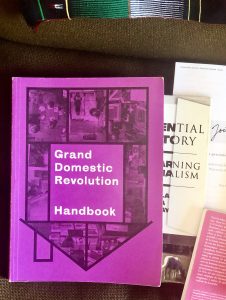 Binna Choi and Maiko Tanaka (eds.), Grand Domestic Revolution Handbook, a compendium of living research for building a domestic commons and oikopolitics, Casco-Office for Art, Design and Theory, Utrecht, Valiz: Amsterdam, 2014
What would a Grand Domestic Revolution (GDR) look like, now in this very moment, as Casco – Office for Art, Design and Theory in Utrecht has already asked a few years ago?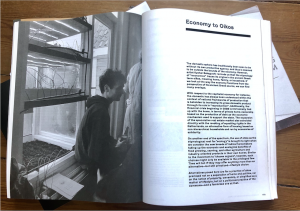 Chapter "Economy to Oikos," in Grand Domestic Revolution Handbook, 2014, pp.173-225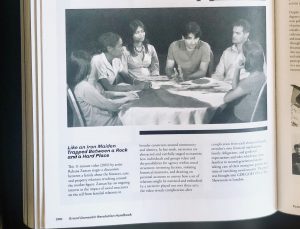 RehanaZama, Like an Iron Maiden. Trapped between a Rock and a Hard Place, 2010, video, 11min, in Grand Domestic Revolution Handbook, 2014, p. 200
Surely, at this moment, the Grand Domestic Revolution is much tighter bound to an oikopolitics as mapped out in Like an Iron Maiden. Trapped between a Rock and a Hard Place (2010) by Rehana Zaman, yet, in demand to be re-defined by practicing social proximity while body distancing, digital technologies and cyber-spatial practices.
In other words, while searching for an urgent politics of the domestic by sharing screens on a transcontinental scale, the need for "digital commons" (NK) ought to demand a technopolitics of live-streaming, data-transmission and tele-communication on a transcontinental scale as well. Is the split-screen a possible "actionable image" (Harun Farocki in 2914 drawing from Alexander Galloway's concept of the "actionable object" [in Gaming: Essays on Algorithmic Cultures, 2009]) of/for domestic politics, which turns everyone joining a video-conference into a news-reporter from her own domestic action, yet, which is only effective by collective effort taking the visual form of a shared screen or split image?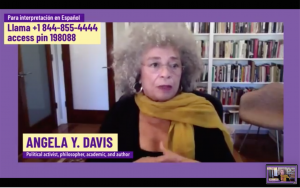 Angela Y. Davis in her home, Oakland/California, 3 April 2020, 1am, Berlin-time, Teach-In "Movement Building in the Time of the Covid-19 Crisis. A Left feminist perspective on 21st century racial capitalism in this moment," therisingmajority.com.
In the live-stream, we see Davis in her home in Oakland/California, surrounded by her library of books; a little dog seems to scurry at the edge of the screen at some point (to be verified, yet, Davis meant to have a dog as the poet and essayist Dawn Lundy Martin notes in her Long Road to Angela Davis's Library) suggesting an interspecies privacy common for a domestic space.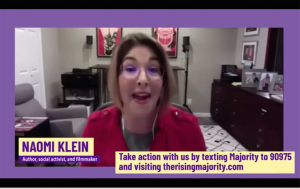 Naomi Klein in her home, 3 April 2020, 1am, Berlin-time, Teach-In "Movement Building in the Time of the Covid-19 Crisis. A Left feminist perspective on 21st century racial capitalism in this moment," therisingmajority.com
We see Klein in a front room that operates as her 'home-office'––with framed family photographs to the right that all seem to look towards the computer-camera; in the back at the wall are two A1-large reprints that look like collages in white and black––one seems to look like a hand holding something–– both on a striking red-coloured background that amazingly reflects a similar red of her jacket.
Naomi Klein points out the "luxury of quarantine" for people like us, who are able to stay at home, have a home at all, shall get paid while tele-working from #stayathome, or furthermore, who have the time to write for Rosa Mercedes 02, and so on. Their conversation leads them into the call for action while staying at home, to mobilize our technologies for creating "digital commons" (NK) as our contribution to the labour of care by those who do not have a "system relevant" profession such as supermarket-worker, nurse, doctor, baker, cleaner, or the postman and postwoman.
The hashtag #stayathome reveals in a crystal-clear manner the degrees of a "collective immune-system" (Naomi Klein) regarding class, race and gender within the capitalist society during this planetary rupture. The service-sector such as care for elderly people, food supply and child-care is still mainly female labour. In this Teach-In-––which is an educational format in itself in the context of political movements––Davis calls, thus, for learning from "feminist organizing" practices now across various societies of the so-called Global South or indigenous communities in the so-called Global North. (N.B. In contrast to Davis and Klein, the Marxist economic geographer David Harvey chose to invisibilize his domestic space while speaking about primitive accumulation, compensatory consumerism and home-cooking. Instead, he appears on screen in one of his famous red jumpers, seated in a grey armchair without a table but a seemingly professional camera in front of him and framed by rendered black background as if this frame marks a sequence in a series of talks. Surely, Harvey must have asked a person, or a team, to film and edit the video-file, yet, they remain unnamed in the video.)
#stayathome has been a widely circulating as well as strongly debated hashtag these days. The visual expression of #stayathome is the split image, the shared screen or split-screen: department meetings, students' tutorials, conferences and live-streams take place by sharing a document or a link instantly for download, muting the microphone while still being recorded, blurring the background, seeing your colleagues in their domestic spaces as much as oneself reaching for the coffee-mug, etc. Video-conferencing technologies use vocabularies of architectural organisation, for example, "room" for defining an interface online to share a conversation with at least two participants.
The split-image of live-streams, webinars or department meetings on our computer screen operates similarly to a "soft montage" (Harun Farocki), yet, more than only between edited images: This split-screen cuts into real-time as if our desktop is the director's editing table during the live-transmission. We are living montage at each moment of sharing a video-conference, as Jodi Dean proposed in "Faces as Commons. The Secondary Visuality of Communicative Capitalism" (Open!, 31 December 2016): "Under communicative capitalism, images circulate more easily than words and words take on features of images (as in word clouds). This new visualism is not just a matter of advertising, television, brands, mainstream media and the like. It characterizes one-to-one, one-to-few, one-to-many, few-to-many, many-to-few, and many-to-many communication. Social media and texting rely on images of all sorts – emojis, photos, videos, memes – deploying them in multiple combinations. We live montage." Yet, the current conditions of live-streaming, video-conferencing, tele-working, cyber-learning, or distance-teaching in real-time, or "synchronous learning" as it says in the language @ KIS: Do This, Not That by Alison Yang, operates through a live "soft montage" of many-to-one-to-few-to-many domestic spaces.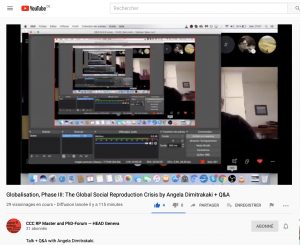 Angela Dimitrakaki, "Globalisation, Phase III: The Global Social Reproduction Crisis," CCC Public Seminar, 1 April 2020, 6pm Athens-time, zoom-out at the end of the live-stream, CCC RP Master, Head Genève
Could the shared screen and multi-split image in real-time across real-spaces mobilize an infrastructure, both, visually as well as socially, for a collective world-building, or,––as Klein suggests in her talk with Davis for therisingmajority.com ––a "collective kick" to open the doors for huge possibilities as wide as open for anti-imperialist politics? Could this split-image of our living rooms push an always already existing yet invisible oikopolitics to the front, that means a political economy of the household, that fosters forms of "digital organizing" (Klein) and "feminist organizing" (Davis) which we will need in order to prepare us for the time after the sovereign will have declared the end of the state of exception?
Probably, the tele-working imperative of the present that comes under names such as Cyberlearn, Moodle, Zoom, Teams, Whereby, BigBlueButton, Skype, Jitsi––you name it––will push the neoliberalization of education into a further chapter. Probably, the corona-enforced global hold of work comes across like an unwanted strike for artists who will need any possibility soon after #stayathome finishes to exhibit again. Yet, as much as Davis and Klein observe for a left "a better position in this crisis" than 2008/09, as much as we should search for a visual imaginary by demanding an urgent domestic politics of organizing ourselves beyond #stayathome. While "system relevant" workers make sure that those who #stayathome have food, electricity, water … the many workers of visual cultures ought to look for possible articulations that speak specifically from/to an oikopolitics towards a transformative vision of a structural change in order "to be prepared for hitting the ground when we are finally able to be in contact again with each other" (NK) in the classroom, the exhibition space or the street. DM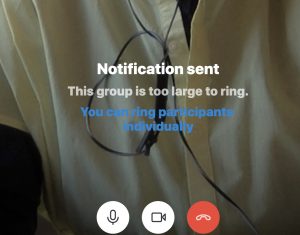 Attempts to begin my Curatorial/Politics seminar on 1 April 2020 on Skype via the program's CCC-CARE group
[i] Thenjiwe McHarris is currently in leadership within the Movement for Black Lives and is the co-founder of Blackbird, an organization that focuses on international movement building. Maurice Mitchell is the National Director at Working Families Party, which is a progressive grassroots political party building a multiracial movement of working people to transform America. Loan Tran is Co-Executive Director of Southern Visions Collective. Cindy Wiesner is Executive Director of Grassroots Global Justice Alliance. https://therisingmajority.com
April 5th, 2020 — Rosa Mercedes / 02