HaFI Presents #03: DAS ANDERE KINO, dir. Adolf Winkelmann, Christian Rittelmeyer, (FRG 1969), January 12, Arsenal Cinema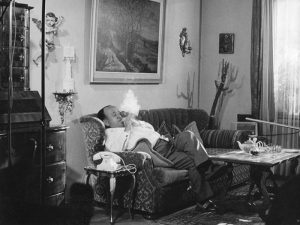 From January 10 until 12, 2020 the film series "The Kassel Film Collective and 'other cinema' at the Dörnberg youth center" conceived by Peter Hoffmann and Tobias Hering will be shown at the Arsenal cinema. In the context of "Harun Farocki Institut Presents" we co-organize the program on Sunday, January 12. The three-part WDR program on the "Other Cinema" (1969) – with Harun Farocki among others – will be screened at 7 p.m.
If you will, the first "Das andere Kino" seminar took place in the summer of 1967 at a youth education center on Dörnberg hill near Kassel after a partisan action on the margins of the short film festival in Oberhausen, where the experimental filmmaker Werner Nekes presented a selection of the films that had been rejected. Subsequently, Gerhard Büttenbender, who was one of the people in charge of the youth center and a cultural education lecturer, invited Nekes to teach film. A state-run "youth center" was without doubt a special place for experimental film work. However, the Dörnberg team's critical stance towards authority and openness towards artistic experiments created conceptual space so that for a few years it became a laboratory for "Das andere Kino". The Kassel Film Collective was formed at the end of 1968. Apart from Gerhard Büttenbender, its core group consisted of Adolf Winkelmann and the twin sisters Jutta and Gisela Schmidt who knew each other from the Kassel Werkkunstschule, and had got a chance to make the first 16-mm experiments as part of Nekes' seminars. Bazon Brock also taught on Dörnberg hill.
More information on the programs 1, 2 and 3 on Friday January 10, and Saturday January 11, here.
Program 4 / Das Harun Farocki Institut Presents:
Das andere Kino
1. Tendenzen im deutschen Untergrund
2. Was ist anders am anderen Kino?
3. Filme für Zielgruppen
Adolf Winkelmann, Christian Rittelmeyer FRG 1969
DCP 90 min
Moderated by Tobias Hering and Peter Hoffmann
So, 12.1.2019, 19.00h, Cinema 2
Arsenal – Institut für Film und Videokunst e.V.
Potsdamer Straße 2, 10785 Berlin
Eintritt: 8,50 Euros / 5 Euros (Mitglieder) / 3 Euros (Kinder/Berlin-Pass)
(Film still: Der Höcherl, 1969)
January 6th, 2020 — Projects / Event