HAFI 007: Filmkritik: Index: 1975–1984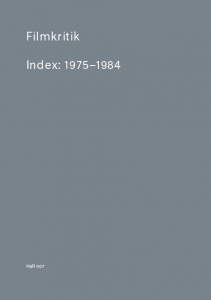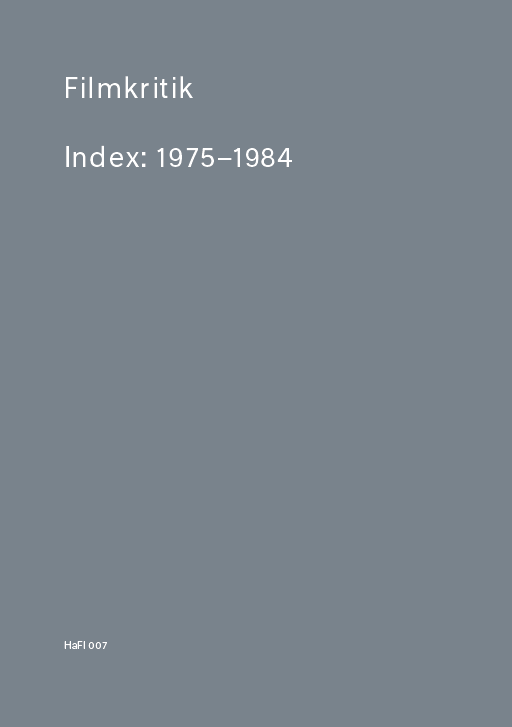 Between January 1957 and autumn 1984, 334 issues of the monthly journal Filmkritik were published. In its final decade (1974-1984) Filmkritik no longer accompanied current cinema releases; many issues were monographic studies of neglected or forgotten filmmakers, idiosyncratic forays into the history and present of cinema and television.
In this period, Harun Farocki – along with Hartmut Bitomsky, Peter Nau, Gerhard Theuring, Wolf Eckart Bühler and others – was a driving force of the journal, both as editor and author.
From a statement made in 1982: "Then there is the fact that many of the authors/editors make films themselves. Just like one is a communist only during one's university years, it applies that one only writes about film as long as one is not yet able to make films. (How can one not realize that someone only writes because he is unable to do something else.) This is a premise we try to contradict."
HaFI 007 reprints the yearly indexes from 1975 to 1983, supplemented by the the index for 1984 which was still missing. It was compiled by Franz Josef Knape. It also includes the program "42 films, selected and presented by Filmkritik," screened at Kino Arsenal (West-Berlin) in October 1982. The indexes are in German, the other texts in German and English.
Available for 8 Euro here at Motto Books.
The PDF is available here.
* HaFI 007 is published within the framework of "Archive außer sich," a project of Arsenal – Institute for Film and Video Art in cooperation with Haus der Kulturen der Welt as part of "The New Alphabet," a HKW project supported by the Federal Government Commissioner for Culture and the Media due to a ruling of the German Bundestag.
April 24th, 2018 — Projects / Publication