Presentation: Kevin B. Lee and Chloé Galibert-Laîné, February 6, 2017, FU Berlin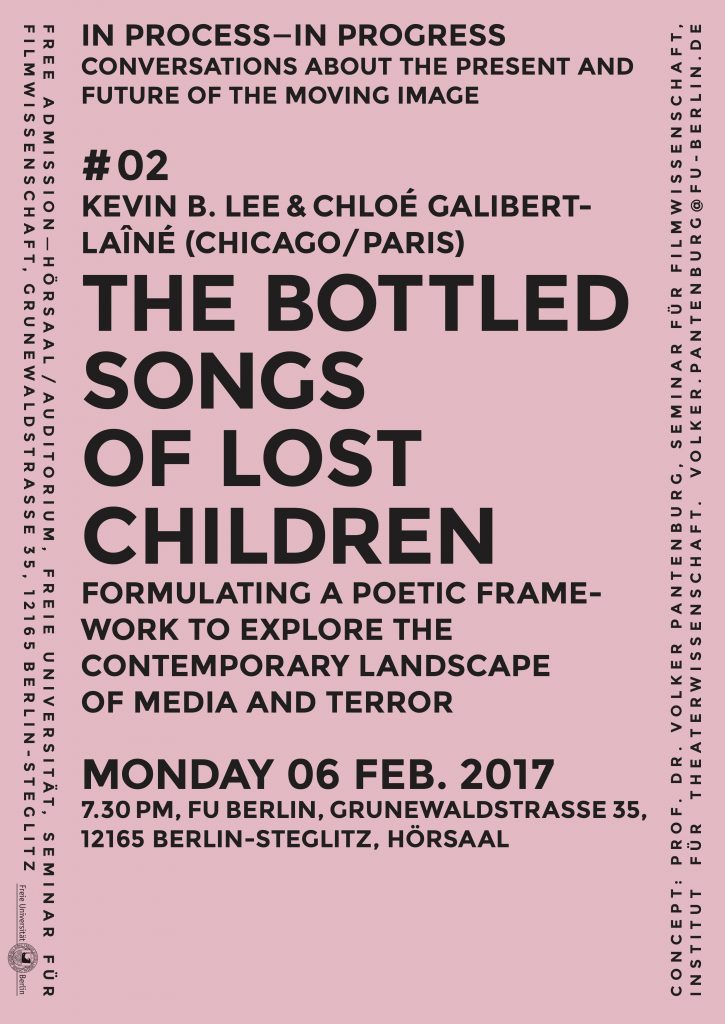 In Process – In Progress #02
Monday, 6 February 2017 at 7:30 PM
free admission
The Bottled Songs of Lost Children
Formulating a poetic framework to explore the contemporary landscape of media and terror
Auditorium of the Seminar for Film Studies FU Berlin
Grunewaldstraße 35
12165 Berlin-Steglitz
– So how do we present this project? Usually these kinds of descriptions try to reassure the audience that they are in the presence of experts so that their time and attention won't be wasted. – And we are indeed no experts on the questions of terrorism… then our presentation should be precisely about the process of producing expertise on that topic, while resisting the rhetoric of authority. – Yes, and it should also dramatize the ongoing question of how we situate and portray ourselves in the midst of our subject matter. – … and how we define our roles in relation to our audiences. – So why don't we perform a re-enactment of our nine months online conversation? Thus we could give the audience a sense of how the project evolved, as we tried to get our bearings in the wild field of terrorist media. – And how we tried to find what… don't know how to phrase it, but in French we have this very nice expression that literally means "it looks at me", but actually means "it's my business" or "it concerns/affects me". – So then I would say: how we tried to find, among this overwhelming audiovisual material, what was looking at us.
Chloé Galibert-Laîné is a French filmmaker and researcher. She is currently enrolled in the 'research and creation' PhD program SACRe at the École normale supérieure de Paris. She directed an award-winning short fiction film and produced several video-essays for Fandor. Her current academic and video work focuses on film reception, film memories, found footage and remix practices.
Kevin B. Leeis one of the most well known and productive protagonists in the field now known as "Videographic Film Studies," or more generally, the "Video Essay" genre. Over the last ten years Lee has produced more than 300 short, analytical videos in which film reflects on film, sounds and images comment on, analyse and criticise other sounds and images. His "Transformers. The Premake" (2014) was screened widely on international film festivals. He is currently staying in Berlin for the first Residency of the Harun Farocki Institut.
IN PROCESS – IN PROGRESS presents exchanges about ongoing projects between cinema and contemporary art. Two collaborating artists/filmmakers show footage and material, develop thoughts, perform their working process: Practice as theory; theory as practice.
Concept / Contact: Prof. Dr. Volker Pantenburg
Seminar für Filmwissenschaft Institut für Theaterwissenschaft
Grunewaldstraße 35
12165 Berlin-Steglitz
volker.pantenburg@fu-berliln.de
January 31st, 2017 — Residency / 2016